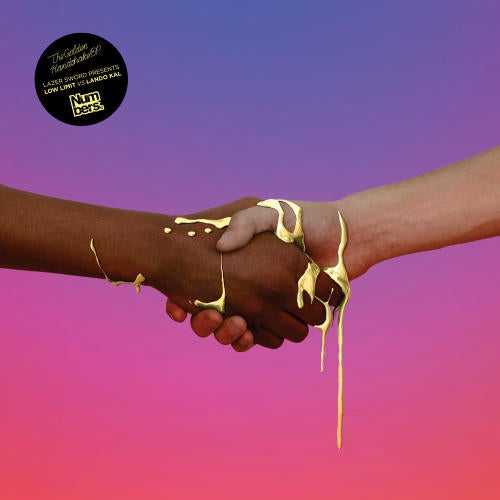 Release Date

2010-03-22

Label

Numbers

Catalog

NMBRS1
Like a live transmission from the party you wish you were at, The Golden Handshake EP is the first offspring of proud parents (and clubbing royalty) Numbers - a new label formed from the ashes of Glasgow's Wireblock, Stuff Records and Dress 2 Sweat imprints.

The label's debut release showcases the considerable talents of Low Limit and Lando Kal (aka Lazer Sword), who should need no introduction to the discerning beat freak having roundly assaulted the ears of audiences worldwide with their unbelievable live show and hundred thousand reaching mix tapes. In Lazerland, no genre is an island; each merges with every electronic form in a stylistic melting pot, so that hip hop swagger, bitcrushed synths, Oizo-esque funk and bowel-worrying subs mock any preconceived notion of purity.

Opener '3D Action Jackson' is a winning argument for confusion. Emerging like a squashed house apparition, it soon morphs into a half-speed arpeggiated symphony as real concern is shown for musicality, structure and placement. Elsewhere, Drexciyan lead lines ghost ride atop a crunked out slo-mo funk chassis, and rigidly sparse Neptunes percussion provides ample backbone for the sleazy flesh of melody. Steel yourself for penultimate bomb 'Trapperkeeper': neck-cracking, head-nodding, rump-shakin', ass-jigglin', brain-teasing, mouth-droolin', crowd-movin', goalpost-shifting dynamite.

Six tracks so hot the wax is melting...