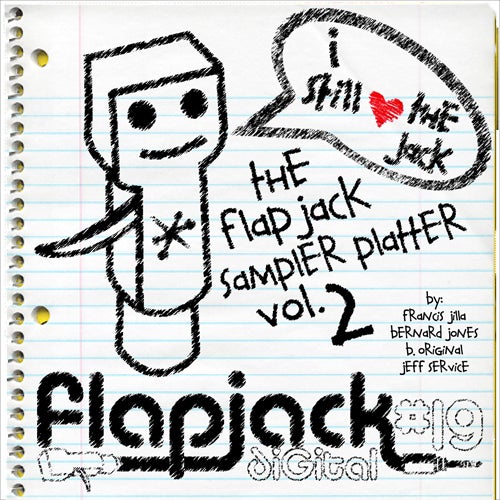 Release Date

2011-01-25

Label

Flapjack

Catalog

FLAPD19
Its time again for another super fat platter of breakfast beats goodness from Flapjack Records. The Flapjack Sampler Platter Vol. 2 is our new special created using just the right sized helpings of some seriously enormous sounds. This compilation of culinary genius was hand-picked by all the healthy and lively listeners of the Flapjack Radio broadcast who participated in the Wicked Or Wack section of the show over all of last year. So consider yourselves connoisseurs of great taste and aficionados of freaky good beats.

Francis Jilla makes his triumphant return to the platter with his sexy n saucy boot Dreams. You cant mistake a good vocal jam when its piled high on your platter dripping with a rock groove. Soak your earholes in this one and hit your target dance floor right between the thighs.

Next on the platter is a generous portion of Swag Jackin by Flapjack new jack Bernard Jones. Bernard gives us a little taste of the hood with a meaty portion of bass that shakes bins and will move roll the grits right off your plate. Sop this jam up with a fork load of funk or just pour it right down your gullet for maximum jack experience.

Another new face in the Flapjack kitchen from across the pond is B.Original. He burns us like a kitchen fire with his down in gritty home recipe ripper Anything You Need. This is one of those savory bits like a bag of your favorite chips. Once you get into that bag, there is no going back, but only this time the beats just keep getting phatter and not your belly.

Right smack dab in the center of the platter sits a heaping hot harmonious hunk of funk from Flapjack veteran culinary specialist and practicing horticulturist Jeff Service. His cut of beats J Train is the portion on the platter you have to save for last because you know it always goes down so good on the dance floor. So if you are djing on an empty stomach, then this is the perfect thing for you to order up. Grab some silverware, headphone, and enjoy The Flapjack Sampler Platter Vol. 2.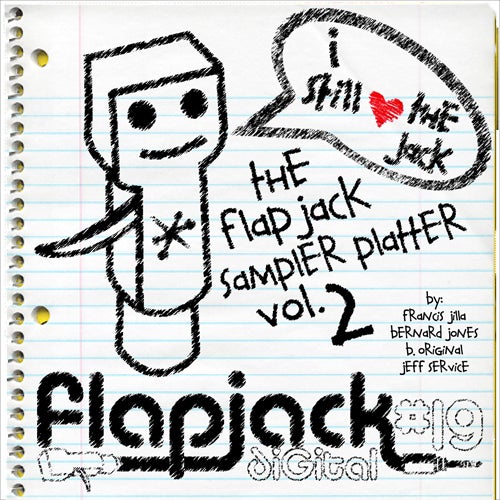 Release
The Flapjack Sampler Platter Volume 2
Release Date

2011-01-25

Label

Flapjack

Catalog

FLAPD19