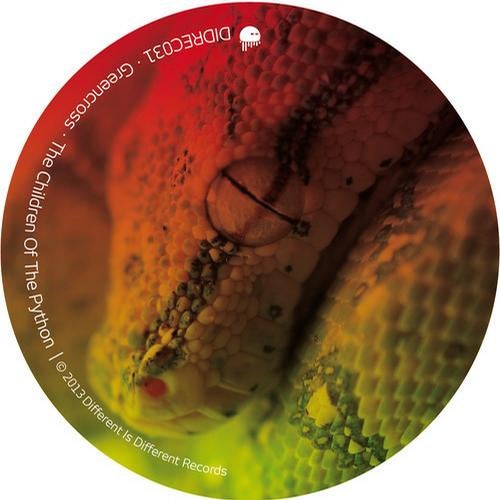 Release Date

2013-01-28

Catalog

DIDREC031
Don't miss our label owner's first single, plus Johannes Heil's debut as remixer on Different Is Different Records

The original track is called The Children Of The Python, and it's a different twist to the sound you are used to get from the label. A deep, moody, somewhat melodic, dark techno.

Johannes Heil's Tiger Python Remix totally raised the bar to the highest level, combining the original melody, a deconstructed groove, Johannes' trademark pads and a super sick beat.

Follow us on twitter: @didrec

FEEDBACK:


Groove Armada: "Really digging this. wicked swing to it."

Michel De Hey: "i totally feel the org great track!"

Martinez / Audiomatique, Moon Harbour: "original is my pick here"

Funk D'Void: "nice new EP mate, sounds ace!, especially Johannes Heil's remix, wooof!!"

Dr. Motte / Love Parade, Praxxiz Records: "YES OF COURSE THE 1 & ONLY JOHANNES HEIL REMIX IS MINE"

Drumcomplex: "playin it the last month and its a bomb"

Patrick Bateman / Tic Tac Toe, Connect Four: "Johannes Heil's mix is out of this world... !"

M.Path.IQ / Multi Cult: "the tiger python remix builds up very strong and has a surprising peak."

Axel Bartsch / Sportclub Music: "original has a very nice vibe"

Butch: "tiger python remix rocks"

Pierre Deutschmann / Micro.fon / Kiddaz.fm: "heil s mix for me.. thx"

Xpansul / Ovum Recordings: "Very cool. Will play for sure!"

Will Kinsella / Ceoltronic Radio Show RTE, RTE Irleands: "sounds smooth. will feature on Ceoltronic Radio"

Pig & Dan / Cocoon: "fat remix by Mr heil"

Mattias Fridell: ""It's hard to not love these tracks. The jazzy riff in the original is brilliant and Johannes remix is perfect for the floors."

Noir / Noir Music: "Both versions are good. Hard to pick a fave"

Florian Meindl: "outstanding chord techno"

Arnaud Le Texier / Safari Electronique: "Johannes Heil remix!!! really cool ;-) Will be in my next radio show..."

Gareth Wild / EarToGround: "Good remix! Powerful yes thank you will be playing" Werner Niedermeier / Broque "Cool original!"

Chris Stanford / EarToGround: "Johannes Heil remix for me, really good stuff there!"

John Selway / CSM, INTERPULL: "Heil mix could do."

DJ Hi-Shock / Advanced Human: "perfect warm up material, thx !"

Alex Bau / Credo: "nice!"

Dave Ellesmere / Intacto: "heil rmx is a killer"

DJ Emerson / micro.fon DJ: "johannes rmx for me"

Maxplay: "Original Mix for me. Very groovy and full of good vibes. Thanks"

Taras van de Voorde: "Thanks! Love the Heil remix"

Matt Minimal: "Johannes Heil's Tiger Python Remix for me !!! support"

Duzzy Das: "Nice deep vibe !"

Stanny Franssen: "Full support from my side."

Zoe Xenia: "Johannes Heil Remix sounds great! I might speed it a little bit down though =)"

El Mundo And Satori: "Nice groove!"

Andrew Onionz (Electrik Soul): "Trk is vibin. thanks!"

L.A.W. DJs: 6 / 10 "Johannes Heil's remix has a great groove to it."

DJ Becka: "Great release! Full support from me!"

Maurice Aymard: "original for me all the way..."

Rafael Mendiri: "Love the come back after the break on the HeilAs mix though my kind of groove is more the Greencross type. support! yes please."

James Hurricane: "Full support, i will play two track!"

Microvibez: "great release...remix for me...will use!"

Leo Fernandez: "Nice Work Greencross! The origina mix is very elegant. The Heil's Remix is awesome!"

Skober: "Johannes Heil's Tiger Python Remix for me! Support!"

Christian Fischer: "like it!"

Steel Grooves: ""excellent deep early morning sunrise trax! thx!"

Roel Salemink: "Great release, really like the Johannes Heil Remix!!"

Agent Orange NYC: "Very good tracks!!! Orig has such a sweet groove and nice thick pads. Remix is that techno workout business!"

Mari Verzaro: "Estan maravillosas, parabens..."

Onoffon: "this is nice a couple of knife -- groove and dub"

Josh Love: "quality track with funky grooves. thank for promo"

MAAE: "MASTERPIECE! Great release! Support all tracks! Esto va a dar que hablar.. ;-)"

Abi Bah: "in the box"

Clash: "buenos tracks la original mix excelente groove para animar la pista de baile y la johannes Heil's Tiger Python Remix; Mazo techno, puA?o cerrado y a bailar; seguro este par de tracks estaran en mis sets"

Rogerio Animal: "Niceeee" Respect"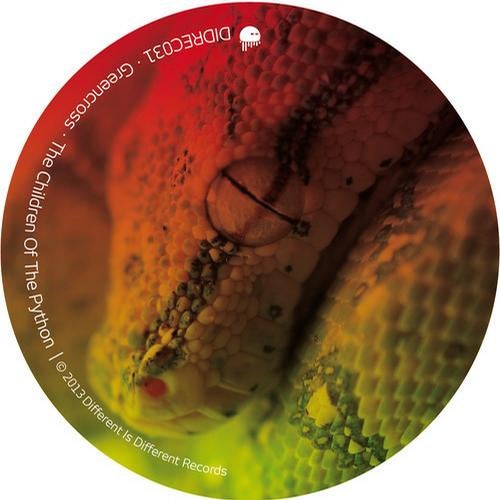 Release
The Children Of The Python
Release Date

2013-01-28

Catalog

DIDREC031