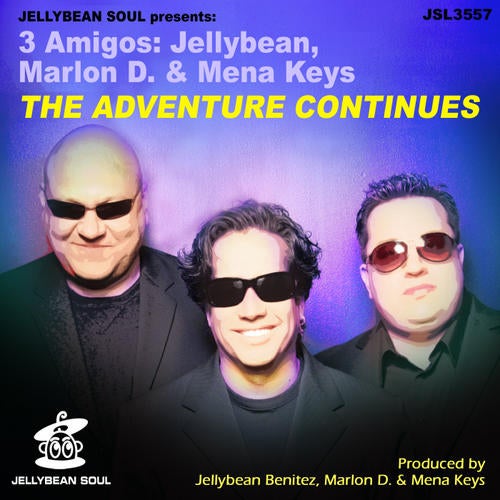 More treats from the soon to be released debut album from the 3 Amigos - Marlon D., Mena Keys & Jellybean Benitez

The Adventure Continues EP offers another tasty preview of songs from the 3 Amigos debut album project, A Celebration In Sound. The 3 Amigos are the collaboration between three powerhouse producers, Jellybean Benitez, Marlon D. and Mena Keys, and The Adventure Continues EP serves up another batch of deep and tech house tracks that are sure to be an essential DJ tool.

FEEDBACK:
Joey Silvero (UK) Jellybean must have insomnia! These guys are on another level right now, all tracks are serious and full of drive, plenty of deep for all!

Danny Rampling (UK) Excellent NYC old school house 10/10

Abicah Soul (USA) Cool tunes See The Light is my choice.

Greg Gauthier (FRANCE) Nice peak time tools, thanks!!!

Craig Loftis (USA) Another great one!

David Harness (USA) Great package- alot to choose from. I am digging "Feel The Spirit, and "See The Light". All of them will be rocked!!!!

Fabio Genito (ITALY) The boys are back with a super package right here... Hot!

DJ Pope (USA) Love the Feel The Spirit

Parrish Wintersmith (USA) I absolutely love it when I receive a package that consists of a 'multiplicity' of heat. Man, it's hard to pick a fave here. What I do know- this entire pack is going in my wallet with the quickness!!

Jask (USA) Dope package....Lords Poem is my fave :-)

Baggi Begovic (HOLLAND) Going for the Lords Poem! Very deep stuff

DJ Michael Terzian (CANADA) Killer organ on this piece right here ("Feel The Spirit")! Moves the soul. Solid.

DJ Dino (GREECE) Awesome big room tracks!! Played tonight on the island of Kefalonia in Greece :D

Owen DeepCitySoul (UK) Feeling the feel the spirit mix on this

Cyberjamz (USA) Back to Back releases for this label and by the 3 Amigos, this package is without exception an absolute journey dedicated to all dancers and dancefloors across the world, full support from SammyRock aka Soul Oasis & the entire Cyberjamz Family!

Fruto Mejia (COLUMBIA) Great work for 3 Amigos a journey into the deeptechyhouse world...versatility on that trio it's the definition of his work. I love the "Faith" 3 amigos Club Mix...Jelly rock the house... Luisito on the congas... Venezuela Gozadera...

Juan Mejia (COLUMBIA) Excelente!

Romain Gowe (USA) Slammin EP- Defo a must have in my house music collection.


CREDITS:
Produced by Marlon D., Mena Keys & Jellybean Benitez
Written by Marlon Duque, George Mena, John Benitez
Published by House of Fun Music, Inc. / My Innersoul Music, LLC (BMI) / My Soulmate Songs (ASCAP)
Recorded and mixed at Lovehouse Studios, NJ
Recording engineers: George Mena and Marlon D.
Drums: Marlon D. & Jellybean
Keyboards: Mena Keys
Congas: Luisito Quintero
Percussion: Jellybean & Marlon D.
Mastered by Emanuel Geller @ Salz Mastering Cologne, Germany

Photo by Louis Pinckney

Executive Producer: Jellybean Benitez

Facebook:
http://www.facebook.com/pages/New-York-NY/Jellybean-Soul/8133353042
http://www.facebook.com/DJJellybeanBenitez

Twitter:
http://twitter.com/jellybean_soul
http://twitter.com/heyjellybean

MySpace:
http://www.myspace.com/jellybeanbenitez
http://www.myspace.com/jellybeansoul

http://www.jellybeanmusic.com
http://www.myspace.com/jellybeanbenitez
http://www.myspace.com/marlonduc
http://www.undergroundcollective.net
http://www.myspace.com/georgemena

Visit us at http://www.jellybeansoul.com

For inquiries, please send email to:
info@jellybeanmusicgroup.com

(p) & © 2010 Fuego Media, L.L.C.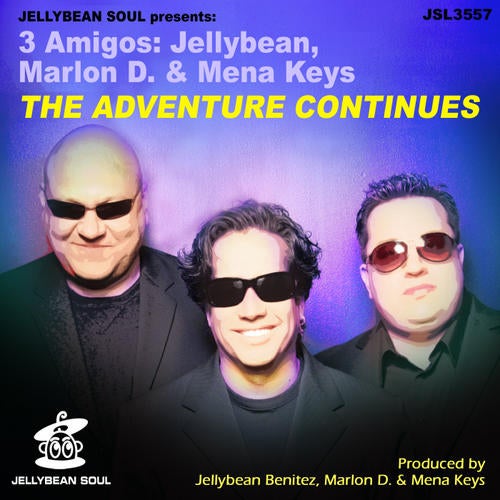 Release
The Adventure Continues EP