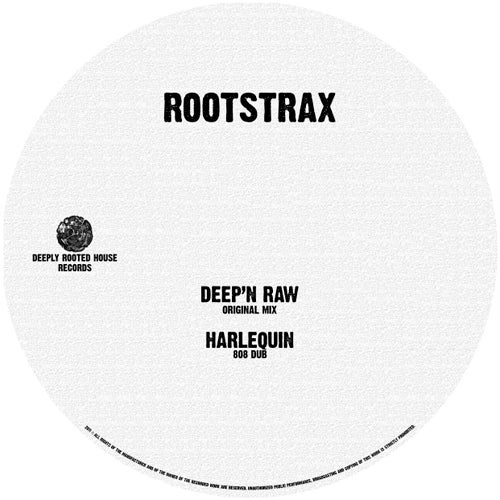 Rootstrax, produced by a mysterious French artist that remains unknown, with Rootstrax the listener knowing a bit of the French house music history can easily define the roots of the producer. The influences of early 90's Fcom/Fnac sound is present and reveal the concept of Rootstrax.
Selected Feedbacks:
Samuli Kemppi:
Deep N Raw, that's the one for me. Will
play a lot. Yes Mama!

Simonlebon, Market Club Vienna: Nice stuff, thanks a lot Cyril! Will play these
for sure in the future. Cheers

Björn Wilke: very nice ep.... good work. will play all three
tracks.

Black Coffee: I love the Harlequin Original Mix will jam it
on my sets....

AntonZap: thank you. will play

markus milz: what a fantastic package...really feelin' the
deep bibes on it !!! massive !!!

phly: exceptional work! all tracks and mixes are
dope! thanx a lot, will play a lot. ;-)

ellen allien: love it will play harlequin

VINNY DA VINCI: Now that's pure DEEP HOUSE...

Fabrice Lig:Wow, excellent !

radio slave: love the808 dub and Deep N Raw is sleazy
!!! wav's please...thankyou x

Melon: Great tracks! Will play all 3 of them...

Serge Clone:I love that 808 dub & i get Goosebumps
from that Deep N Raw track!

Ame (frank): i like! merci!

Len Faki great kick-off for 2011 guys!

Terre Thaemlitz: Fierce! Deeply Rooted House is the shit!

Gareth Sommerville: Yes! Deep N Raw for me. Thanks for

Argy: Thanks a lot for this.
Harlequin original is my favorite DRH for a
while now and one of the nicest songs i
heard in a while too! 5 Stars!

Yannick Needs: Wonderful record! Harlequin makes me
jump around in my room right now.
MASSIVE!!

DJ FRANCK ROGER: ah yesss.. really diggin that 808 dub good
to hear some proper deep stuff, but who's
hiding being that project??

Imugem Orihasam: Really great stuuf again and again! All
tracks are top stuff, can't choose the one...
Thanks for sending, much appreciated.
mark henning: top release! thanks

charles webster: 808 dub is v cool...thnx...x

savas pascalidis :really cool release, very deep and

Luciano: Thanks for the music!

pacou: quality house music!

martyn:yes love it!!! I dont care who it is but its
obvious that house music is completely
natural to him/her/them!

Dimi Angélis:Yeah! Some cool house traxx here on this
ep. Fulls upport!


Ryan Elliott: Geat Release. Deep N Raw is my choice!!

djulz: beautifull stuff, i will play all

Kiki:loving that warm basslineblast from the past
on "harlequin"!

Nick Holder: THIS IS DOPENESS!

matthias vogt (motorcitysoul):shiiiiiiiiiiiiiiiit! i love it!

Dj Alex from Tokyo: Bringing me back to the old days! Feeling
those 3 tracks big time.They sound so
modern and timeless ! This is my shit. Full
support!!

Sammy Dee: GOOD LIKE ALWAYS!!!

dj spinna : I love it!!!!

Willie Graff: Great classic sound! "Harlequin" has such a
nice flow to it.
Will play with love! Please send the wav
files.

Marcel Dettmann: 5/5! thanks;)

manoo :deeply is back in business !!!!
what a crazy groove on harlequin...
great job

Tedd Patterson: Great EP. Really feeling these tracks. Can't
wait to hear more... Thank you

Dan Curtin: smashing EP, can't stop lisening, full
support!

Jonas Kopp: Excellent! finest house music , Deep N Raw
is my favourite , but all the tracks are
excellent.
Will chart this EP on my next February
chart.
Thanks

stuart patterson:love love love this.. have playlisted for the radio as well...
THANKYOU

Jon Cutler: great Vibes! Dope EP!

raresh: lovely ep . thanks

Marcelus: Hey! really love this new release!! all 3
tracks for me! :) YUP!

Deetron: great EP, all tracks are nice but Harlequin is
my fave.

Daniel Kyo:Oldschool sweet flavour!Top quality!I love it!

gary martin: I love this track Harlequin (original).

Kai Alce: My hands are up for the original & Deep N
Raw track!

zak k. aka DVS1: 808 Dub and deep N raw cut are the one for
me. Actually like everything on this, but
those are the 2 I will play out! Thanks for
the good music!

Christopher Bleckmann: Love the 808 dub. a journey in time, very
nice!

Tim White (House Afrika Records) :Love that Juno bass sound - dope tracks -
Deep N Raw is killer deep tune - Got my full
support.

Ly Sander:this is superb! just love Harlequin, makes
me travel way back and forward at once,
sure shot!

MEAT: i like this oldschool flavaed tunes!
great ep!

chloe : nice ep, will play it

Thilo schneider : review in our march issue

Patrick Bateman: Dope release again from DRH! My picsk are
Harlequin (original) and Deep N Raw. Play
and chart (february).

Kiko Navarro : Harlequin is amazing! as much as i listen to
it as much i love it, timeless music! will play
it for sure, for long time, this is a lovely
musical trip.
Deep N Raw is a perfect example of what
Deep house is, Mucha Gracias!.

Osunlade: its always great to hear new deeply rooted
music..the only probelm is that its too far in
between releases..this is yet another
gem..thanks for this!!!

greg d (Fish Go Deep): rockin im in raw and funkin...house.house
house



Ian Pooley :deep n' raw is grrrreat !
very nice tracks. thank you.

jef k : BEAUTIFUL RELEASE !!! THX A LOT WILL
PLAY FOR SURE .....

sebo k : i love it! full support.

agoria : What esle can i say that it s a perfect record
for my ears :)

martin landsky : nice one...i like all versions...

laurent garnier: hummmm c'est bien old school ça , c'est
bonnnnnn

Sasse : This is my record of the month, lovely lovely
lovely ! 10/10

Quentin Harris : Very Good I love the Energy in this track.

Brothers' Vibe (Tony Rodriguez): Sweet piece!!

Sven von Thülen : Wow, Deeply Rooted House are really
going from strength to strength at the
moment. All killer no filler! Again and again!

Dj Waxx: llove the 808 vibes, will be played on the
boogie nights

Alex Flitsch :super stylish timeless house music!



dave vega: hooray!

Kenny Larkin : Harlequin (original mix) sounds great.

marlon d: DOPE !

sebo k: nice one! full support from me.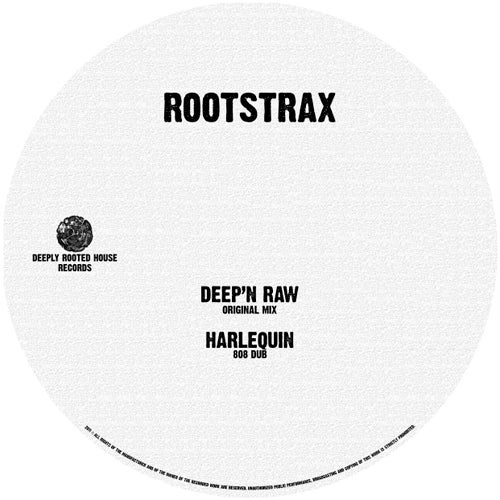 Release
Rootstrax