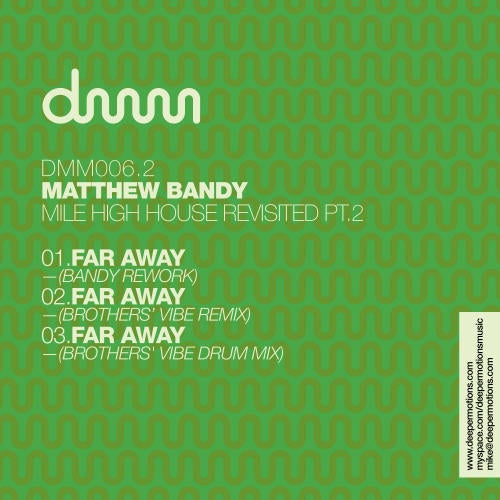 Deepermotions Music's first release for 2010 is the Part Two release of Matthew Bandy's "Mile High House Revisited EP"

This time around, Bandy lets fly with some deep n jazzy goodness with his rework of "Far Away" perfect for the late-night floors.

On remix duties, Brothers' Vibe has taken the original to a whole new level and gives it the peaktime treatment.

To round off the package, Brothers' Vibe puts together a drum mix, perfect for using as a mixing tool.

Reactions....

Laurent Garnier "sweet deep jazzy house music ..love it"

DJ Sneak "great deep house grooves"

Jimpster "Loving the BV drum mix!"

KiNK "nice house music from Deepermotions Music! The versions in this release are covering all the different needs of a club night. My favourite track is Bandy`s rework, but I would pick Brother`s Vibe`s mixes for my sets. Excellent work"

Doc Martin "Great Brothers' Vibe mixes. Way to go Matthew!"

Moodymanc "great jazzy vibes on all mixes"

Nick Warren "Brothers' Vibe remix is a bomb!"

Luciano "very sexy tracks!"

Soul Minority "Wicked EP, really love the Brothers' Vibe Remixes"

Jay Tripwire "yeah this shit is hot,love all the mixes.. Matts original is perfect for more soul inspired sets and Brothers' Vibe is great for rockin the joint..i have played Matts original on many occasions and its stellar.."

Marques Wyatt "Brothers' Vibe gave it the touch!"

Stacey Pullen "on point!"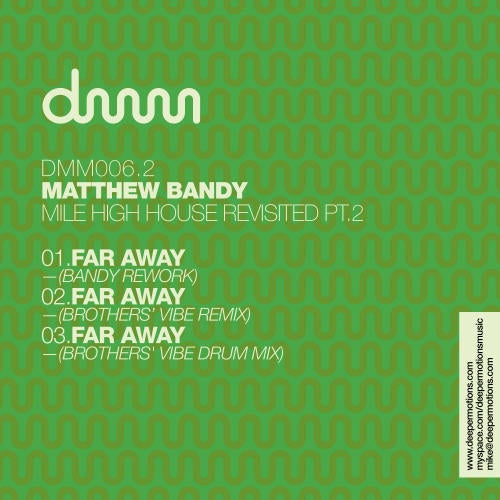 Release
Mile High House Revisited