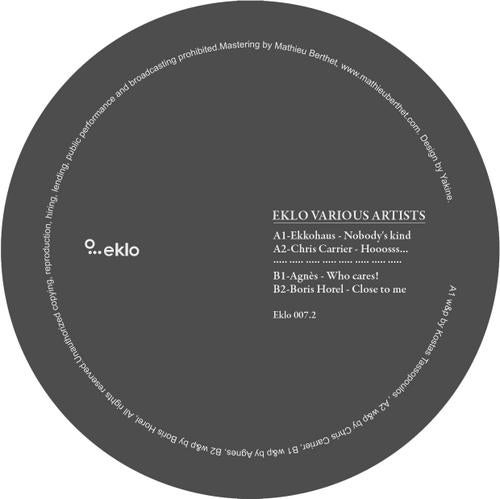 Release Date

2009-03-03

Label

Eklo

Catalog

EKLO007.2
Eklo 007.2 is the second part of the hooksey serie .
Same Rules as the first volume, but with different artists.
A1 is from Ekkohaus, after released tracks on Morris Audio and Circus Company, he gave us "Nobody's Kind",
some great modern house, already support by all the big artists like Mickael Jackson, Kanye West, Madonna,..
A2 is from a guy you know for sure, if you're in house music since years, Chris Carrier, weelknown for his stuff on Robsoul and his own Imprint Adult only. Some modern Chicago flavor for every party time with "Hooosss".
B1, yeah, our Swiss budd, the ladyboy Agnes, who had the courtesy to join the project and gave us this
techhouse bomb tool, sexy and full of grooves..
B2 is another close friend, Boris Horel after his release on Super Nature, and after years of tweaking eq, comp and stuff, he decided to show us his amazing music...uff, great. Close to m eis a super house journey, butter to mix, where Boris shows us one of his skills, his voice..
Let's get on board fort he second part guys...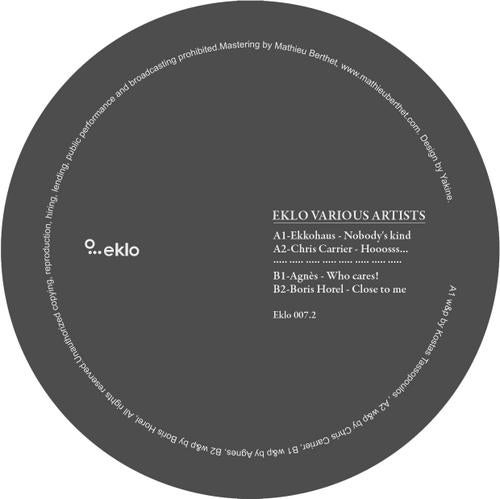 Release
Hooksey Volume 2
Release Date

2009-03-03

Label

Eklo

Catalog

EKLO007.2