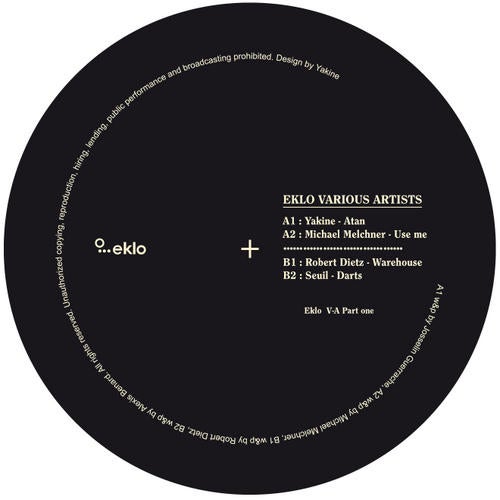 Release Date

2009-01-26

Label

Eklo

Catalog

EKLO007
Eklo 007.1 is the first part of a series composed with cuts from various artists.
After recieved lots of great tracks from our friends we decided to mount this project to put all that bombs on wax.
Hooksey vol.1 is composed of 4 tracks. Groove and hooks are the main topics on this record.
The A1 is from Yakine, our Paris' buddy, new artist on the scene after an ep on Esperanza and Je t'aime.
With "Atan" he brings us through a long journey, full of perks, voices, glitches and apocalypse pads/fxs. Perfect track for peaktime, full of energy, able to burn every dance floor, when u need too.
2nd track , "Use me" is from the Nuremberg based artist, Michael Melchner, wellknown for his first producitons on cargo edition.
He delivers a mix between modern and old fashioned house, composed mostly by hooks, big sub, soul voices,
magic tool, or soul electronic trip, it's up to you, but you'll be probably play it at anytime...get always perfectly in the mix.
On the flip side, Robert Dietz's Warehouse is print on B1. His my space hit, like, we called it here, Running after this bomb..Robert finally decide to give us this present. This track can resume the name "hooksey", a house
feeling, lead by hooks. His track, is driving by a big raw beat, sounds like new modern analog stuff, with a
crunchy bass, a lack os subs perfectly controlled, some weird dirty voices and those deepsynths coming along the
track. Ready to dance!
The B2 is a tool from the labelhead Seuil. Darts was done a while ago , after get good feedbacks from our best
djs friends we decided to release it on this various series. A 6 min big beat, groovy and subby cut..a pleasure to mix.
Support by: Raresh, Loco Dice, Matthias Tanzmann, Djulz, Reboot, Robag Whrume, Anthony Collins, Brothers
Vibe, Vera, Dorian Paic, Federico Molinari, Shaun Reeves, Chris Tiejen, ...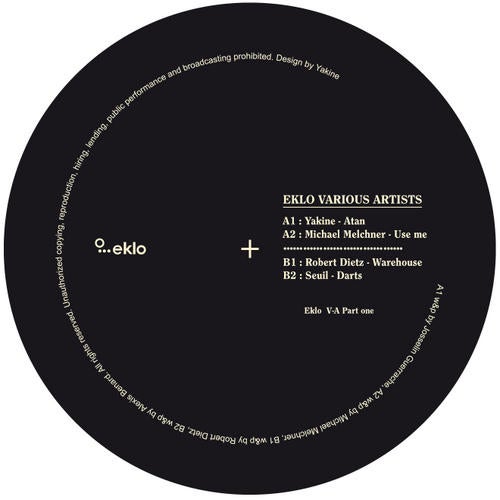 Release
Hooksey Volume 1
Release Date

2009-01-26

Label

Eklo

Catalog

EKLO007