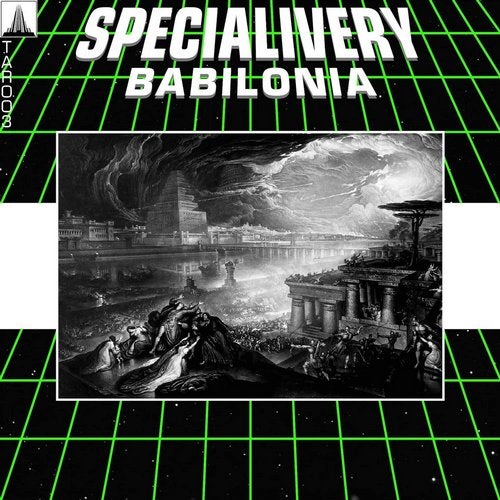 Release Date

2014-11-17

Catalog

TAR003
Support from Skream, B.Traits, Breach, Huxley, Marcel Dettmann, Shadow Child, Randomer, Lakker, and more...

Lugano, Switzerland (or as he likes to put it, Rigel A) resident Carlo Bernasconi is a man of many former trades – a decade-long career as a pro turntablist G.BIZ, service with the Swiss Armed Forces Militia earning him the rank of Lieutenant, classical training in piano and solfeggio spanning seven years, and a side-gig as electro and booty house peddler Life Jacket. All of these inform an exquisitely veteran and textured approach in the debut of his dark, industrial techno guise, Specialivery.

For his contribution to Tessier-Ashpool's fluid 'machine music doctrine', Carlo employs a historian's approach – very specific crate-digging during his latest summer in NY, and a lifetime's research on ancient civilizations lend themselves to a reductionist and stoic sound, and a steely, somber tone. His peerless, cultured musicianship and military instincts shine through as he tempers industrial and tribal elements into spartan, automaton grooves, and transcribes antediluvian concepts into futuristic soundscapes that evoke action-packed scenes of megacorp warfare.

Opener "Kinesia" is appropriately kinetic, its swung Prophet08 bassline creating a suspended, tense counterpoint to the rigor of the techno backbone – a tension resolved only by a sparse, yet instantly-memorable synth flourish. "Haksum" is a bellicose, galloping number, its interplay of builds and drops betraying Specialivery's DJ chops, and its tom-driven low-end showcasing his penchant for elegant simplicity. "Amenhotep III", faithful to its regal title, is the most focused assertion of the EP's sound (evident in its PSA-style lead sample). Working with a lot of the same elements from "Kinesia", it ramps everything up to 11 – the bass becomes an ever-timbrally-evolving volley of relentless 16th-notes. Follow-up "Baagh" seems almost tame by comparison, despite its 4/4 neurofunk/thinking man's complextro histrionics. Closer "Marabunta" strays from the convention of ending on a more restrained note, instead latching on to a ceaseless rave alarm and never letting go.

"Something is driving them out, and I think it's something big." Specialivery unwittingly describes his sound with this sound-bite – his is a sonic mecca for ravers worldwide to flock to.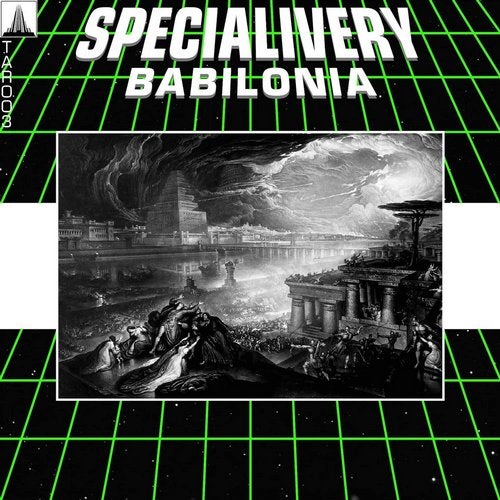 Release
Babilonia
Release Date

2014-11-17

Catalog

TAR003