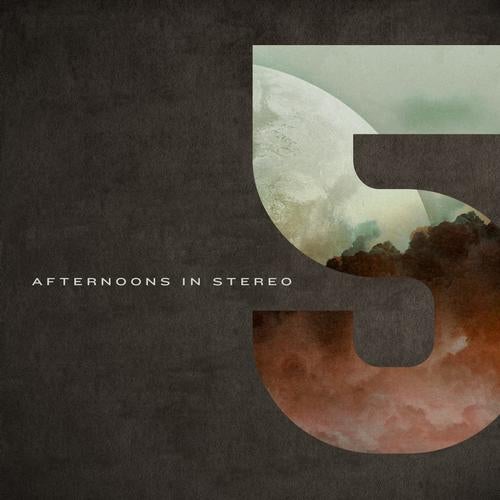 The fifth Afternoons In Stereo album, simply titled 5, continues an exploration of the evolving geography of the producer's sound, beyond what's come before and into new and inventive territory. Continuing an ongoing love affair with jazz, the album encompasses additional elements of funk, afrobeat, ambient, and drum 'n bass in it's global-minded quest to redefine the artist's signature lounge style.

Here is a track-by-track breakdown:
The record opens with Prelude, an incantation - a prayer, even - giving the listener guidance for the intent and the tone of the new record. Set against a lush bed of slow jazz that calls to mind Donny Hathaway or a laid-back Parliament, the narrator calls for the listener to embrace "the continuing process of consciousness" through music, striving to be the gateway to "total harmony with the universal principles of peace". Heavy stuff! A sultry saxophone does not go uncalled for, naturally.

In ancient mythology Pasiphae was the daughter of Helios, the Sun God, and a mistress of the herbal arts. This enigmatic myth lends itself to The Garden of Pasiphae, a jazzy affair that beds down on a golden, sun-drenched field where the imagination can calmly unfurl and luxuriate. An element of instrumental soul flirts beneath the largely downtempo track, one where plush keyboards luxuriate side-by-side with creamy horns and a warm sensual organ to guide you home. This is chill-out for the modern listener.
No stranger to the nu-jazz template,

Afternoons In Stereo brings his distinct and signature style to Blues For BL. Replete with a smart rhythm section including upright bass, the strings and flutes perfectly capture the soft drawl of a summer night before the mid- section invites a spirited rhythm that gives way to a short vocal refrain. A simple longing - resignation, perhaps? - is expressed. Then the vibes kick in, taking you down a moonlit beach to dip your feet in the night surf as a sensual sax solo reminds you that every star in the sky is yours, new beginnings just a wish away.

When the single Soul Sugar was released last summer, it immediately hit the sweet spot with fans. There was a familiarity to it, yes, an ease and a feel in harmony with that unique Afternoons In Stereo vibe. But there was more ... perhaps it was the slight hip-hop undercurrent, or the dischord of the feedback and sax squeal of the breakdown. Maybe it was the kitschy video. There was something new at play here, a sense of a path newly tread. It's inclusion here on the new record is most welcome, where it fits in perfectly with the producer's ongoing experiments in aural synthesis and sonic fundamentals.

It's remarkable that only a handful of songs from the Afternoons In Stereo catalogue fall under the often rarified category of "caper music" - the kind of track that conjures up 70's car chases and elaborately-planned heists. The Kelly Affair certainly falls under this domain, with it's blazing horns and scratchy blaxploitation guitar equally met by some fluttering flute and a temultuous organ. The pounding central riff keeps rumbling forward, like a souped-up muscle car, taunting the police while blazing a path from the criminal underworld to the dark city streets, there to make a defiant last stand or go out blazing.
In his pursuit of blending organic instrumentation and digital composition, Afternoons In Stereo has continued to incorporate live musicians into his electronic pastiche - sometimes blurring the line between what is "real" and what is "imagined". Rarely has he done so as deftly as he does on Driving To Montenegro, the sound of musicians jamming brought to the fore. Largely recorded live off the floor with the bulk of the heavy-lifting provided by guest musicians James Orr, Clayton Saunders, and Andrew King giving the track the feel of an extended jam, one where all the elements lock together in perfect unison.

Afternoons In Stereo is no stranger to afrobeat, the music being a much-loved staple of his radio program. His first foray into an afrobeat style came with his shattering remix of Teddy Pressberg's 'Outcries From A Sea Of Red' and the producer returns to this template with Kalakuta Republik, mixing the funk to the fore and getting the dancefloor pumping! A thundering crowdpleaser measuring a perfect "420" on the richter scale, it's all organs and bass until the guitar and horns step up and bring it all home. We dare you to stay seated!

Bringing it all the way down and giving us a chance to catch our breath, the cerebral Feels Like Rain sees a rare acoustic guitar brought into the mix alongside some lovely keys and a haunting piano. Don't get too comfortable -- storm clouds gather on the horizon and threaten to burst, as an ambient middle-section strikes the beat and makes gain with swelling pads of synths that recall the producer's work as Kanada. Never fear, though -- the stormclouds turn to a soft rain once again, and we're left to gently let our eyes close and our minds wander.

Ambition is something that hasn't been lacking of late in Afternoons In Stereo's oevre. This time out the idea was to cover someone else's track; to undertake the challenge of interpretating another artist's work.

The song choice was Shadows, from keyboard legend Lonnie Liston Smith. Undaunted by the prospect of a lengthy instrumental with a lot of soloing, the producer looked to working inside a drum 'n bass template he'd not dabbled with since his debut album. In part an homage to the IDM sound of the late 90's, this interpretation keeps the lush instrumentation but speeds up the BPM's to mesmerizing effect.

Blow fits comfortable in the
Afternoons In Stereo arsenal, and was a highlight of the Soul Sugar EP on which it first appeared. Starting with a mysterious, almost dangerous presence before erupting in a "genuine authentic synthetic hybrid" of jazz and breakbeat, this is a track deep in mood and texture. Duelling saxes belt out against a thunderous backdrop of drums, while the horn section hints of espionage and conspiracy hidden behind a thin veil of intrigue and a hint of menace. This is the sound of a master producer doing what he does best.

Winding down towards the end of the record, Sui Generis acts as a sister track of-sorts to Feels Like Rain. Both tracks recline within an ambient space, where the rhythm track gets dialed back to a more passive tempo, but here there's a spacier feeling that explores a more cosmic vista - one finds themselves floating among starfields sifted across an expanse of silent black. Echoes of piano, hints of radio broadcasts - messages from an Earth far away, long ago; messages received in slow motion, dispatches from home in fragments of time and space. This is headphone music, a massage for the cortex.

The album concludes with a solo piano piece. Snowfall is a very personal track, the producer drawing upon a very private experience and setting it to music. Cinematic in tone, spare in execution, one feels the slow and gentle falling of snow in the dead of night as every possibility presents it's singular conclusion. Everything is lost and found again, one guiding light revealing it's lasting grace and simple truth at the very final moment. It's a lovely closing statement to end the album on.
Three years in the making, 5 marks another unique chapter in the life of Afternoons In Stereo.

All songs mastered by Angelos Timewarp Stoumpos.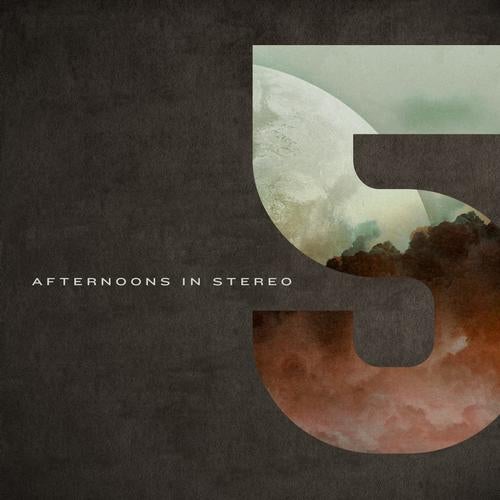 Release
5