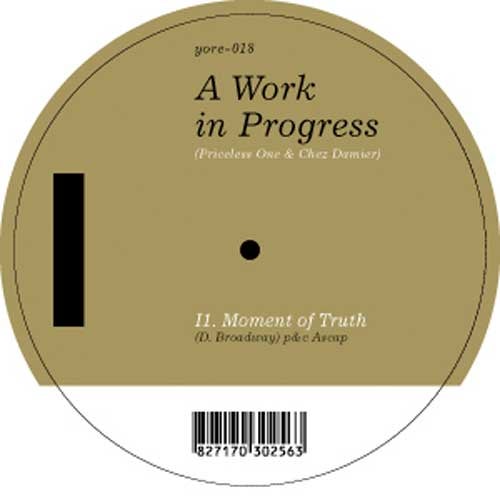 Release Date

2009-09-14

Label

YORE (YRE)

Catalog

YRE018
We proudly present "A Work in Progress" (Priceless one) with help from chez Damier)
on our 18th release. "A Work in Progress", is a new release by writer and Producer D. Broadway. Priceless One is a Club kid from Detroit inspired by the likes of chez damier, Alton Miller, Kenny Dixon just to name a few. Priceless One is one original Music Institute member and works full time as a social worker. His sound is a combination of Chicago inspired house and Detroit Techno, with a hint of New York. "Priceless One" called on the help of Chez Damier to complete this project. The vibe is raw yet very dance floor friendly.

That said and put simply, the Yore EP features two old-school stomping club jams that rock for eight club-ready minutes apiece. The A-side's "Let Me Do Yore" starts off in tribal mode and then adds triangle and shakers to its relaxed percussive groove before shuttling off into the stratosphere where sheets of synthetic slivers dart past at lightning speed; the track's bottom-heavy pulse builds in intensity as claps and soulful voice swirls bring a delirious vibe to the proceedings. Following a Detroit-tinged intro, "A Moment of Truth" slides into place with congas and claps helping it find its way. Sizzling hi-hats and a thumping kick drum deepen the groove while a funky bass line provides hip-shaking accompaniment and marks the return of a House Legend, who's still at his best. Soul never goes out of style, right?!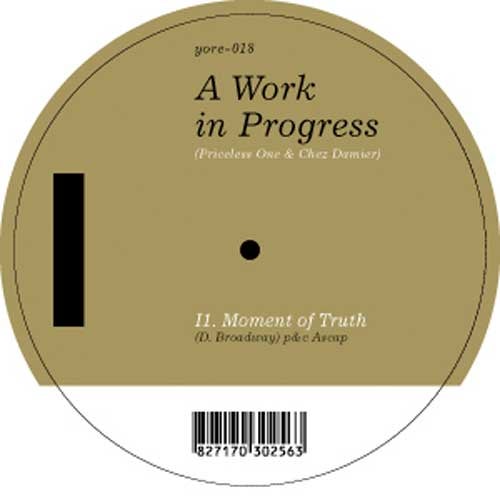 Release
Untitled EP
Release Date

2009-09-14

Label

YORE (YRE)

Catalog

YRE018