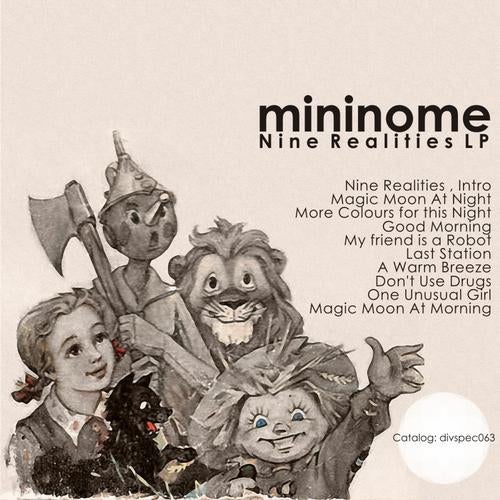 Written and produced by mininome.
Owner & Executive producer David Divine.

International project brought together a successful, interesting and talented artists from all over the world. The label, which offers a unique, an underground music angle Tech.
The owner of the label intellectual and intelligent Tech and Deep Tech scene - David Divine. Projecting his international experience to DIVINE TECH records, the company is fast gaining momentum in the global music market. To date, a sub-label "Mandelstam Music", as well as a powerful mastering studio, "360."
Official page: http://soundcloud.com/divine-tech-rec

From the author:
We long road to go and we did it!
This is our first album. His concept - a tale in which the light overcomes the darkness. Everyone has their own reality, but these seemed to us closer.
So, we begin!
Nine Realinies. Intro
On our planet, many unexplored corners. We know of a few, but one of them we like especially. Called mininome. Residents prefer to write it in small letters, emphasizing its small size, purity and harmony. All who live in this land can be divided into two groups - ordinary people and wizards.

Magic Moon At Night
When the moon comes out at the sky, and the sun is hiding in his room, things get dark. All wizards and witches join their hearts to help restore power to the sun.

More Colours For This Night
Sometimes it happens that the good can not overcome the cold and darkness, so they are asking for help from DJ. This mythical character can ignite many bright colors that mix to get them perfectly white light and illuminate them all around.

Good Morning
Almost morning, which means that all the usual inhabitants of our kingdom will soon wake up. This moment is a turning point in the battle between good and evil, light and darkness.

My Friends Is A Robot
One of our friends - an unusual wizard. His name arpeggios. He is kind and every time gives something wonderful people. He can not be offended, but at the same time he always scowl. Unknown designer does not have time to work on his appearance - he did not he smile. Without a smile, he seems angry, as if he tried, he attracts a friendly gaze without a gift.

Last Station
Once, arpeggios on a journey, the path was far and unpredictable. He made his way through the thick trees, crossing the sticky swamp and apparently he was running away from the forest monsters. But that seemed rails, railway station, people ... Our brave man went to see them, but scared of it. The robot was first dipped his hands ...

A Warm Breeze
But as it happens in fairy tales, there is always someone who can fix things. And there is no exception. Near the coastal cottage living wind. She was a girl of southern blood. She had a prophetic dream that someone is sad near her home. Wind quickly woke up and decided to check it out.

Don't Use Drugs
Upon arrival, the wind immediately recognized our friend. The wind did not have eyes, but it felt great surrounding. Under his silk robe she looked like a stingray, radiating heat instead of electrical discharges. She hugged arpeggios. Arpeggios felt the warmth and support, it was a new feeling, this it is not felt. Arpeggios already warmed up, but it is extremely reluctant to part with the wind, he knew he should leave her and the sadness overtake him again.

One Unusual Girl
Wind understood everything, but could not stay long with the arpeggio. And then her full of joy - she remembered that there was one girl robot that evil wizards put in prison and ordered to keep a low profile until it hits his own kind ... Wind immediately pointed the way arpeggios, having covered it with a piece of his terry cloth. Arpeggios through Glonass found his way to the very same girl. Her name was Friendly. They have no words to understand each other. Attack, crawled under the warm blanket of arpeggios and together they began to look at the sky.

Magic Moon At Morning
Meanwhile, the good wizard with DJ managed to get the brightest white light and confront the dark. The sun was slowly waking up and rejoiced new day. Today, something unusual, like a new star lit ...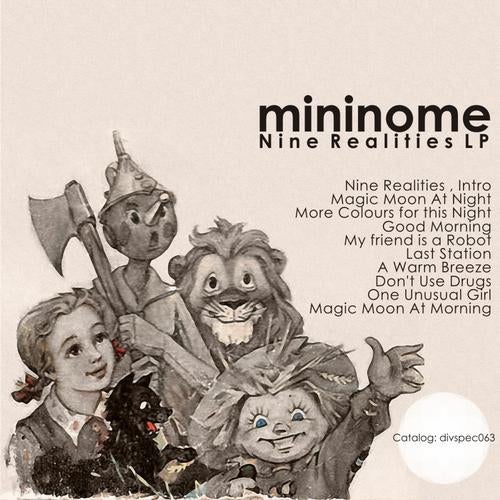 Release
Nine Realities LP