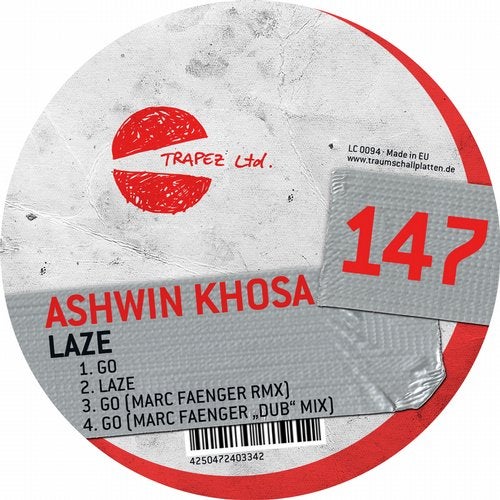 Release Date

2015-06-22

Label

Trapez Ltd

Catalog

TRAPEZLTD147
The man has release on our label MBF but with his continuation of breathless, timeless techno we have pulled him on our label Trapez ltd.
Ashwin Khosa has hit a nerve with his tracks and with his productions, which go hand in hand. One could say they depend very much on each other and have already found their fans with very famous DJs and clubbers.
"Go" is an extremely well put together track that shows continuation in groove and sound but simultaneously reveals micro breaks, distractions, midget sounds in the style we were taught by our Traum artist Max Cooper in the past. "Go" in a way is a wake-up call for all of us to move our bodies to the slick beat and seduces us in the course of it. It is one of these tracks you stamp as "pure addiction.

"Laze" is more of a funky masculine grinder, or the funkiest robot ever build.The lead sound is is baseline that collects sounds as light does moths.There is no stand-still, "Laze" is a constant flow of ideas.
Ashwin shows here his versatility to write different styles of music in near perfection.

The remixes come from Marc Faenger who recorded a 6 track EP for Minus in 2014. His interpretation of "Go" is maybe the opposite of what the original version had in mind and therefore constitutes itself very much like a new track rather the a remix: an attitude we always support.Marc decelerates and programs a rhythm that could be termed as "futuristic-tribal"."Go" now is deeper and gently pulls you in, step by step and so it ends up sharing a seductive formula though being totally different.
A bit of a bonus mix is Marc Faengers "Dub Mix" which is much more relaxed as one would expect although it still uses tempo reflecting elements that create a strong drive.So this might be a mix for our Telrae fans.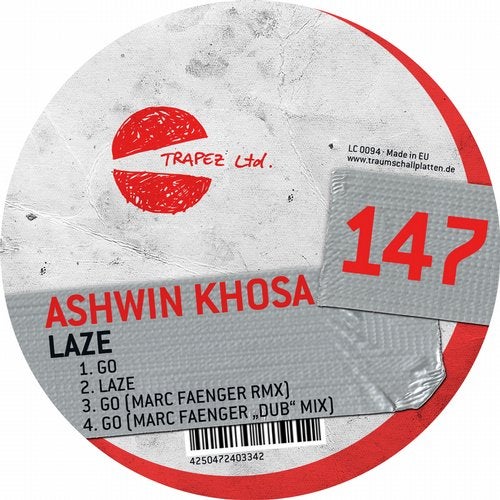 Release
Laze
Release Date

2015-06-22

Label

Trapez Ltd

Catalog

TRAPEZLTD147