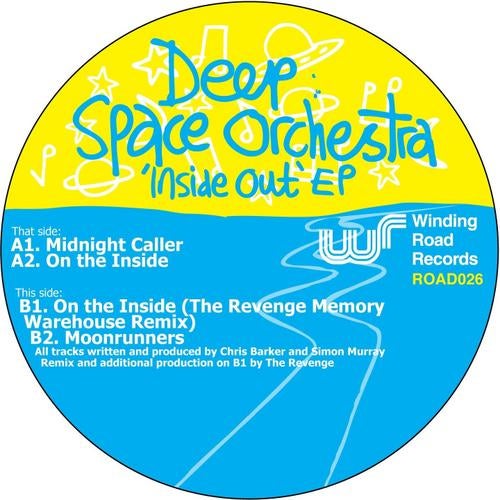 Deep Space Orchestra are exploding all over the world's speakers right now. Their recent releases on the Zombie Soundsystem label, and on their own new label Use of Weapons, have been blazing in the ears of the house cognescenti. DSO's tracks have been getting support and plays from Floating Points, Jimpster, The Revenge, Michael Rutten, Scott Grooves, and plenty of other discerning DJ's looking for something fresh and sparky in these tired times. DSO have forthcoming EPs on Kirk Degiorgio's ART label, and on the legendary Home Taping imprint. Good things indeed for Deep Space Orchestra - and now they add Winding Road Records to their portfolio. The 'Inside Out' EP is a solid package featuring quality tunes from start to finish. Midnight Runner is a heavy plunge into deepest underwater techno, which drives fearlessly forward through a storm of ride cymbals. On The Inside hovers and builds on a single chord, until breaking deliciously into a slinky deep house groove with a plonky bassline leading the way. On the B-side, The Revenge pass by to deliver the 'Memory Warehouse' remix of 'On The Inside' - a simple and decisive slice of deep dark rave, with all the hot production values we love to hear from The Revenge. Moonrunners, finally, is an organic and musical collection of neatly packed Rhodes keys, piano splashes, trumpets and intense bass notes, and wraps up the package in style. Another great EP for DSO - and a solid return for Winding Road Records. Tracklisting: A1. Midnight Caller A2. On The Inside B1. On The Inside (The Revenge Memory Warehouse Remix)

Feedback:

Laurent Garnier
Deep, lovely and super musical. Lovin the whole ep.

Break3000/ Dirt Crew
Great release! Loving all the originals...but yes The Revenge remix is a Killer again :) full points!

James Flavour
Stunning EP! Love all tracks. Super quality here!

Steve Ferrand (Your Only Friend)
Great EP! So many moods but all super deep and electronic, just the way I like it! But the fave has to be Moonrunner, proper slow motion tripped out house for the headz! Will play this a lot!

Lars Behrenroth (Deeper Shades of House)
It's 12.05am right now, no wonder midnight caller sounds so good. Will bang. On The Inside - Revenge mix is big. Want it to be 4am now - niiccceeee! Moonrunner has warmth for days! DOPE. Vampire Tycoon kicks nicely. DOPEST EP, really diggin it.

Leigh Morgan (Urban Torque)
Really high quality EP here, the two mixes of On the Inside are particular highlights, full support and will be in next weeks radio show

Willie Graff (Cielo, New York)
Always nice to hear a new Winding Road release! Been enjoying what these guys are doing and it sounds like every release is getting better! I like Moonrunner and On The Inide so far.But all are quality! Cant wait to hear it on vinyl! Thank you very much.

Shade (Polyphonics Recordings)
Very nice remix from The Revenge !

Ed Cotton (Basement Boogaloo)
Looking forward to flexing this bad boy.

Aaron Dae (Dae Recordings, Chicago)
Really digging this one and I'd have to say 'On the Inside (Revenge Mix)', 'Moonrunner', and 'Vampire Tycoon' are my favs. Will be playing these out HEAVILY...

Mannix
Winding Road return with a splash! Big up!

Maros Glaubic
great release, love On the Inside ... will play a lot

C&M Productions, Switzerland
Great release!! The Revenge remix is our track for the bag! Many thx.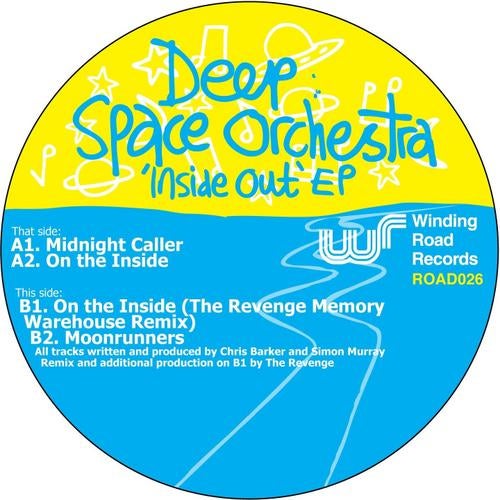 Release
Inside Out - EP