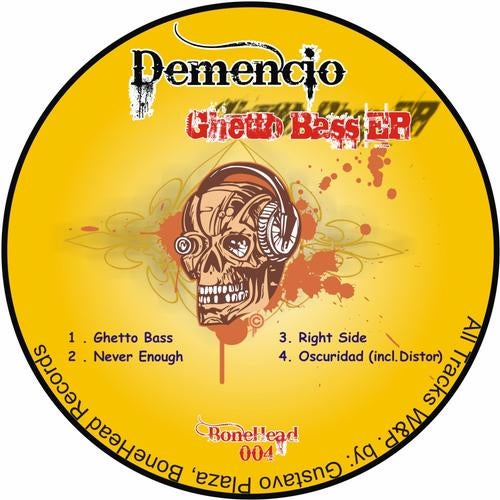 Release Date

2011-03-26

Label

flowtek

Catalog

10025477
Gustavo Plaza aka Demencio (12/09/86) Is a Dj/producer & Live Performer from Maracay, Venezuela.

he started producing his own tracks in the year 2007 after attending many electronic parties in his hometown Maracay and other cities around Venezuela where he had the pleasure to listen to some great local and foreign artists. His love for electronic music began to grow, and it was the powerful sound of Hardtechno that caught his heart at first. He was able to obtain music production softwares such as Reason (his favorite) and Ableton Live, and he started to make his own beats for the fun of it. With no previous experience, Demencio¥s first tracks had a very nice sound, so he decided to send some demo tracks to different Hardtechno/schranz labels. Speaker Destroyer Shit Records from Hungary was the first label to give him the opportunity to release his tracks in the year 2009, ®just For Pleasure® & ®war Is A Business® were his first tracks released, receiving good comments and support from different artists and listeners. In the same year 2009 another label would show interest in his music, in this case it was Technomoshpit Records from Usa, who offered Demencio his first solo Ep titled ®trust Me®, this ep also received good comments and support.

the year 2010 was very succesful for Demencio, he decides to improve his production skills by taking a Sound Engineer Course in an Institute in Caracas, and this together with his own knowledge, helps him to make better tracks. His hard work led him to release his tracks in different Hardtechno labels such as: Elementz (belgium), Unlimited (germany), Eclipse (poland), Shot Inda Head (hungary), Thick Hard Movements (holland), Young Blood (slovakia), and also on his own succesful Hardtechno label Double Sense (venezuela). In the same year 2010 Demencio had the chance to play in many electronic events in the city of Caracas and other cities around Venezuela, making the dancefloor go wild with his fresh and unique mixing skills.

in the year 2011 Demencio comes even stronger due to the experience he has obtained after some years working hard. Upcoming releases on Bonehead Records (germany), No Sleep Till Bedtime (australia), and other labels not yet confirmed, prove that this young venezuelan producer has a lot to offer to the Hardtechno scene worldwide.