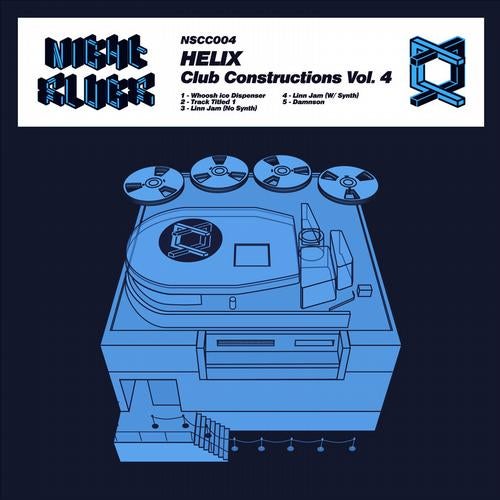 Release Date

2013-05-28

Label

Night Slugs

Catalog

NSCC004
Atlanta-based Helix expands on the techno/grime hybridity hinted at on his hit "Drum Track" 12" with the newest installment of Night Slugs' Club Constructions series.

It's apt that some of the original material shortlisted for this release was lost to the digital tides, subsequently having to be restored or rebuilt in Night Slugs' London studio during a visit by Helix in late 2012.

The chaotic nature of his movements is mirrored in Helix' productions. Taking a strong influence from the into-infinity a/b switch of 8 bar grime, "Whoosh Ice Dispenser" is a dense and turbulent drum workout, riding out on top of massive pitched 808 subs. Unexpected respite comes half way through in the way of a single but wholly transformative chord, a rare moment of human emotion for Club Constructions, but certainly restrained enough to fit the bill.

"Track Titled 1" is a club tool of epic proportions - Jersey kicks patterns paired with one single chord stab are pretty much the only ingredients here, but Helix' flanger does all the work, driving ever upwards with G6 intensity.

"Linn Jam" is the ultimate Club Construction, as pure as L-Vis' first installment, comprised entirely of pulverising Linndrum blastbeats (think metal drumming).
In typically irreverent fashion Helix uses this as a skeleton for a trancey, submerged arpeggiator workout on "Linn Jam w/ Synth".

First premiered in Bok Bok's NSMIX, "Damnson" closes the EP on a note of cavernous, hard, club-banging techno.



All tracks except "Whoosh Ice Dispencer" were mixed with love by Bok Bok.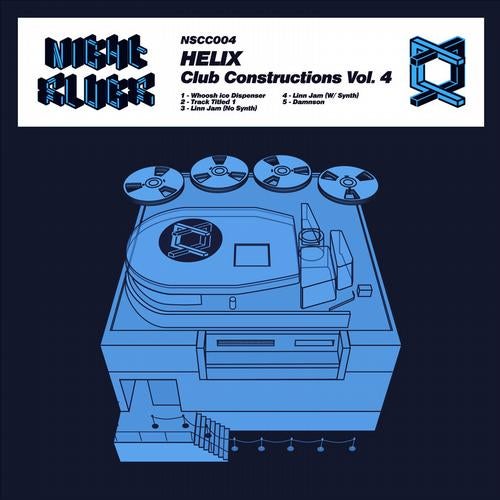 Release
Club Constructions Vol. 4
Release Date

2013-05-28

Label

Night Slugs

Catalog

NSCC004