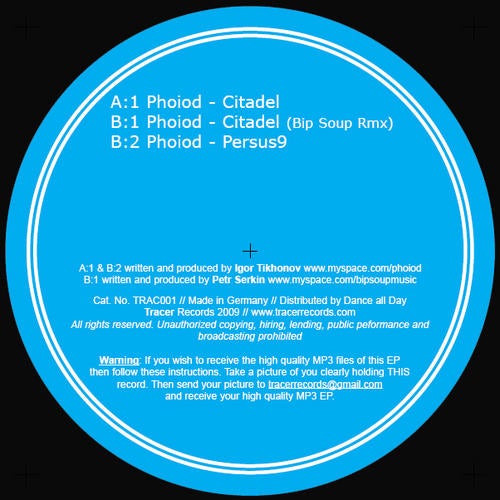 Phoiod (Igor Tikhonov) is a Moscow based media artist, electronic music producer and partly - programmer. He pushed out two amazing minimal techhouse tracks. First up is Citadel which has a nice drive to it. Absolute clubbing material! Next up is Persus9. Expect warm experimental techhouse suited for the dancefloor. Freaky vocals, fre aky sounds, we love it! Citadel has been remixed by Bip Soup, who gave this track a nice bigroom sound. The whole EP got massive support from all sorts of artists and has been charted on Resident Advisor!



Label: Tracer Records
Country: Netherlands
Format: Vinyl and Digital
Cat. No: TRAC001
Artist name: Phoiod
Release name: Citadel/Persus9
Release date: feb 2009
Distributed by: Dance All Day

Tracks list:
A1: Citadel (original)
B1: Citadel (Bip Soup mix)
B2: Persus 9 (original)
Digital exclusive: Citadel (Dual ! Shaman's Seagulls At Sunset Remix)

Support by:

Pheek (Archipel, M-nus, Contexterrior, Telegraph): After much listen this is very one of the best promo i received this month and will play it a lot. I love the remix a lot but all tracks are very intelligent and beautiful. I will chart it for sure!

Papol (11am, Esperanza): nice release
Someone Else (FoundSound): I like the 2 originals the most.

Hakan Lidbo (Resopal, Spectral): great stuff. a1 being the fav. excellent, funky and playful production, very inspiring.Eelke Kleijn (Global underground, Outside the Box Music): Nice one! Like the Bip Soup & Dual Shaman mixes.

A ndrey Zots (AFU, Globox): This is ep sounds like the best one from Phoiod up to date to me. Already playing Citadel and Persus for half an year now I'm happy to have it mastered!

Kaufmann & Ferdinand (Kaufe Musik): Phoiod always shoot his tracks in our playlists! we love his style … deep 'n' dirty is how we like it

Tony Matt (Globox, Terminal M): Nice ep for this fresh label, my favorite track is Citadel, i like both original and remix… support!

Milos Pavlovic (Momentum, Balkon): Citadel my favorite on this one. Bip Soup remix is nice.

Ascii.Disko (Body Fuction, Ladomat, Pale, Dance Electric): I like "persus 9″ nice deep groovy minimal

The Seekers (Kaufe Musik): so cool the deep sound!!! we like the whole ep but big soup remix is our favorite

Ziel100 (Datapunk):! I like all of the tracks, but i like the seagulls at sunset mix the most! Will definitely play!

Spedro (Hoehenregler, Chin Chill): Great label start! Will definitely play the original and Bip Soup rmx of "Citadel". Full Support!

Brett Johnson (Cynosure, Frankie): Cool release, some nice deepness in there. Will be playing the original and Seagull's at Sunset mixes…

Jarno (Rush Hour, Wolfskuil): Great first release on this label, like the Persus 9 track. Support!!

Alex Piccini (Multivitamins, Pearl, Kaufe Musik): Big support for Bip Soup rmx!!!

DJ Markus Kavka (MTV): toller release! meine faves sind der bip soup remix und der shaman remix. sehr atmosphärisch, bläst einen schön weg. werde ich auf jeden fall in der disco spielen.

Signal Drivers (Destination?): Nice smooth beats…smoother than f reshly shaved legs

DJ Bob Morane (Viva la Electronica): "Citadel Original" is my personal favorite version! Very interesting experimental sounds with minimal groove! Played at Viva la Electronica more than one time. Great! Full Support!

Tracer Records is the first to set up a special action for every sold vinyl! When you purchase DADTRAC001 and read the information on the label sticker you will see the following

"Warning: If you wish to receive the high quality MP3 files of this EP
then follow these instructions. Take a picture of you clearly holding THIS
record. Then send your picture to tracerrecords@gmail.com
and receive your high quality MP3 EP."

That's right! We are giving away the MP3 EP for free if you purchased our vinyl! Make sur! e you ta ke a picture of yourself CLEARLY holding the purchased 12″ record. When you send us your photo you grant us the right to put the picture on www.tracerrecords.com (We can link to your myspace/website/facebook/other if you wish)

So actually what you get is:
• The vinyl record
• Free MP3 EP
• Link to your website/myspace/facebook/other

And that for the astonishing price of €4.43, equivalent to about two beer.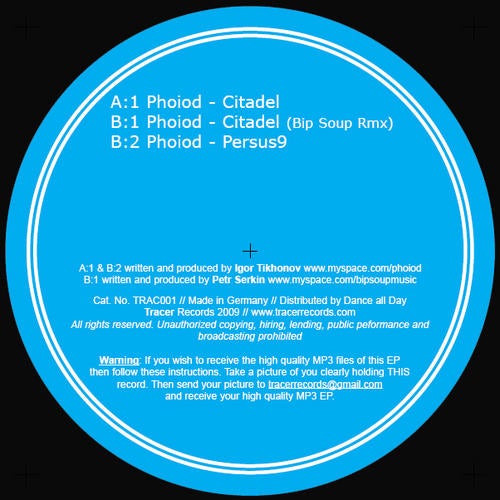 Release
Citadel / Persus9 EP