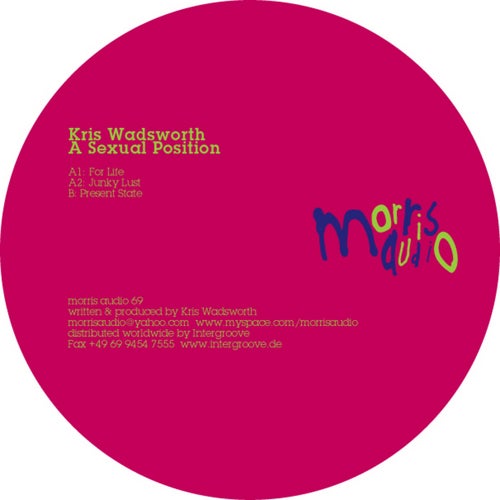 Release Date

2010-07-09

Label

Morris Audio

Catalog

MORRIS069
supported by: Laurent Garnier, Burnski, Deetron, Oleg Poliakov, Ekkohaus, Pol_On, Brendon Moeller, Seth Troxler, Trickski, DJ Deep, Pezzner, Moodymanc, Craig Smith, Iron Curtis, Huxley, Dachshund.......


A1. "For Life" Inspiration for this track is pretty straight up and down. The return of a young future-classic who was disgruntled with the trials of the underground music industry but luckily found out from a close friend that: "dude…I can hear it in your music…you're fucked for life." The vocal sample says it all: "I've been in this game for years…there's rules to this shit." Age twenty-five and already eleven years of production, it just may be "For Life." Long-live MoTown's most misunderstood man!

A2. "Junky Lust"A true Wadsworth signature: ever-changing ripe piano chords progressing with a mind of their own, bass lines that shake the fat off your girlfriend's ass cheeks, some raw electric shivers to wake the place up a bit, and of course…some clever vocal samples. Lets not forget Kris's trademark intricate percussion tuned just right and layered like a Jazz-addicted Eskimo. "Junky Lust" lends itself to the rather blasphemous belligerence found only in the most severe states of counter-culture life…a wink to a life lived fast and colourful with a dab of disdain towards typical dance phenomenon.

B1. "Present State"You may have supposed there would be some vocal action, and you are exactly on point in assuming so. Stripped, warped KW track structure and sound with enough restraint to give you with-drawl symptoms: only to release you in wonderful dissident elevation as only Kris can do. The idea is that you don't have to fake it to make it--a notion Mr Wadsworth notoriously prides himself on: surely something of inspiration to others out there in Production Land as well as the modern dance floors.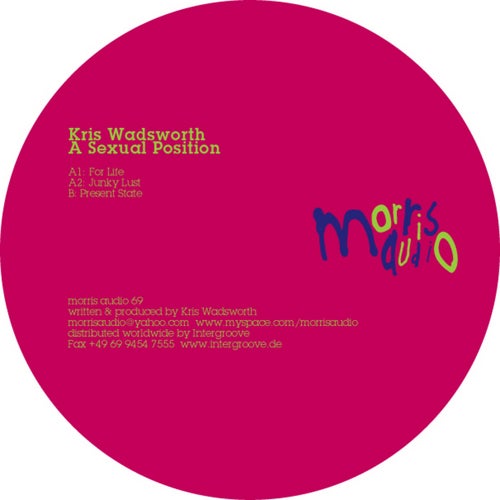 Release
A Sexual Position
Release Date

2010-07-09

Label

Morris Audio

Catalog

MORRIS069