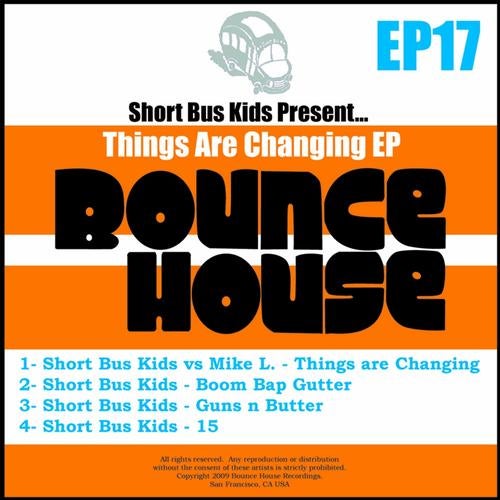 Short Bus Kids: DK Watts and Lance Leber are the San Francisco and now Amsterdam-based production duo called the Short Bus Kids. In a city like San Francisco that's deep-rooted in dance music culture, the Short Bus Kids have done their very best to ensure those roots are there to stay. In the studio, the duo strives for tracks loaded with 'lots of funk, soul and a little something extra. In 2007 German mega-dance label Soulstar Records signed one of their tracks for 'Addicted to House Volume 6.' I DJ Magazine recently named the SBKs one of the "best providers of bumpin' west coast meets east Midlands deep house."
Mike L.: Amsterdam-based dj and producer Mike L. teams up with the Short Bus Kids on their latest Bounce House installment. Mike has released projects on one of Holland's top labels, Smash Records, and is highly-regarded in the Amsterdam scene. Keep an eye on Mike's production skills as he has another release scheduled on Bounce House later in 2009.

Things are Changing EP / BH EP 17

1: Things are Chaning - Short Bus Kids vs Mike L.
The EP title track is straight up deep, techy and breaky madness. The bass line just keeps building in this track and should be a hit on dance floors worldwide.

2: Boom Bap Gutter - Short Bus Kids
The Short Bus Kids pull out the funky bass line and vocoder for this jam. For Da Sunlounge and Inland Knights fans.this is a must.

3: Guns n Butter - Short Bus Kids
Another late-night floor shaker. This track has it all, deep layered synths and a bumpin' bass line. Guns n Butter is one smooth track

4: 15 - Short Bus Kids
If you like your music funky and twisted with hints of acid, 15 is a trip for you. The SBKs dig deep in the bassbin for all the druggy cocktail ingredients for this track.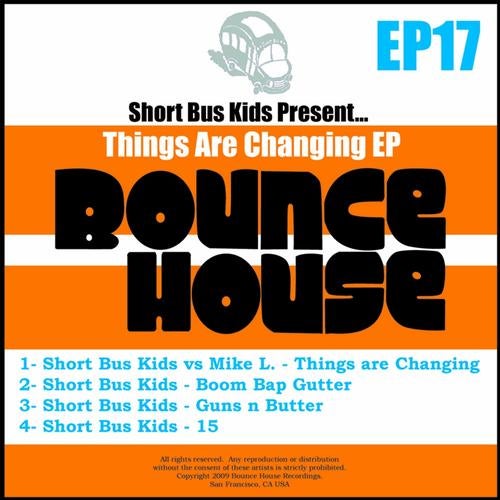 Release
Things Are Changing EP