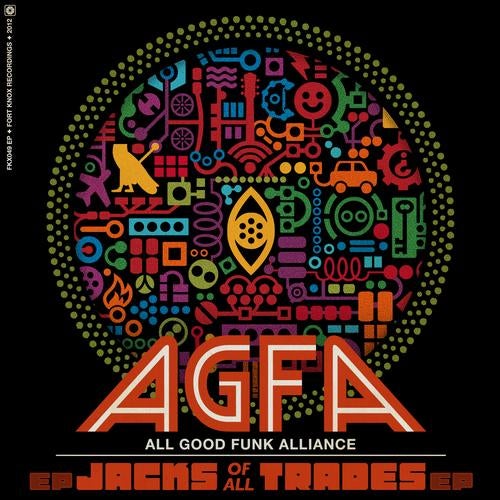 All Good Funk Alliance are no strangers to Fort Knox Recordings, they have been releasing music and remixing with us since the beginning. Frank Cueto and Rusty Belicek are the masterminds behind AGFA. They have built a solid reputation and a signature sound, creating a definitive catalog of tracks that have rocked many dance floors worldwide. All Good Funk Alliance is back with the release of their latest full length album, Jacks Of All Trades, coming out on Fort Knox Recordings in May of 2012. After the Rhythm and FX EP that shook up the scene in March, this album continues that vibe and lives up to its title as AGFA serves it up with their rock solid production. The album spans the stylistic soundscape that has carved their niche in the Electro funk scene of today. Future Go Go, Nu Disco, Hip Hop, and Space Funk are just some of the terms used to describe the flavor of this album.

All Good Funk Alliance recruited a slew of top International vocalists and MCs, including Rubber Johnson, Think Thank, Bigstuff, Mustafa Akbar, Empresarios, and Piper Davis.

We compiled an exclusive EP from the Jacks Of All Trades album. Throw Down featuring Neighbour and Think Tank, will rock festival crowds all summer long with funky vocals, twisted synths, and a gritty bass line. Time To Get Loose featuring Bigstuff & Think Tank is a full on party breaks banger with heavy wobble bass and vocals that evoke a Big Daddy Kane vibe. Mr. Hipnoid featuring Rubber Johnson takes you back to a time of intelligent hip hop with massive boogie disco horns, crazy slap bass, big breakbeats, and vocals that will blow up any spot! I Dont Care If Its Your Birthday has that signature AGFA mid-tempo breaks sound to it that people have come to know and love. In The Rain featuring Empresarios, has that fresh tropics, beach party style feel to it. Filled with synth stabs and a funky bass bouncing through the rhythms, this song is a sure fire hit! These are just a few of the 13 genre crossing songs on the album that illustrate that All Good Funk Alliance are true Jacks Of All Trades.

AGFA has once again proven why their tracks are played across the globe on dance floors of the highest caliber. With handfuls of gems on this album, your funk weapons have officially been re-loaded.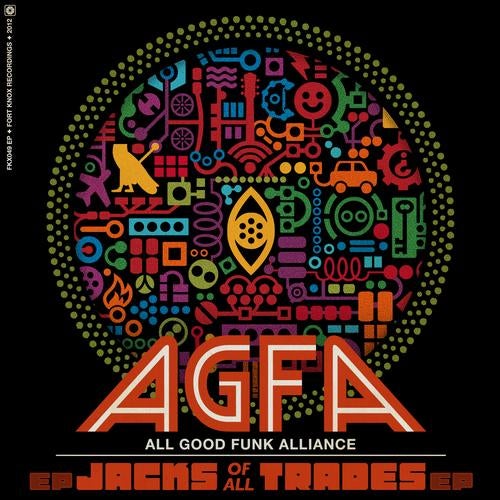 Release
Jacks Of All Trades EP