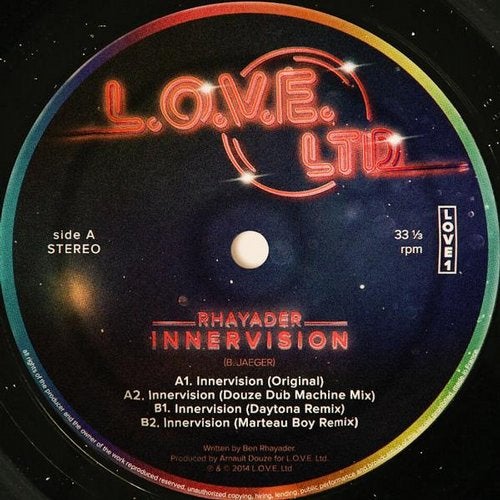 L.O.V.E. LTD opening release brings you French newcomer Rhayader's first single.

Produced by imprint owner Douze, the track is a real journey through unconscious eighties pop signature
sounds & modern indie dance production techniques. As though it was plucked right out of Human League's
"Dare" LP, this synth-pop fantasy is rich with Depeche Mode-esque influences, which is the core of
Rhayader's song writing.

'Innervision' is taken to new highs courtesy of Douze's ethereal vision of the original, creating a number
ready to level the dancefloor. Parisian producer Daytona delivers some classy funk electro beats finished
with a gratin of jazz chords. Finally, Strasbourg based producer - and Rhayader's neighbour - Marteau Boy,
brings back some early new wave action with the help of guitars a la New Order, catchy basslines
and illustrious synth work.

L.O.V.E LTD (standing for Living On Variable Emotions) is Douze's brand new label. Best known for his
collaborations with long time collaborator Kris Menace and unreleased productions with Alan Braxe; with EPs
on Discotexas & Animal Language and remixes for the likes of Robin Thicke, Sally Shapiro and Holly
Johnson - the Parisian producer decided it was time to bring his vision of music out there.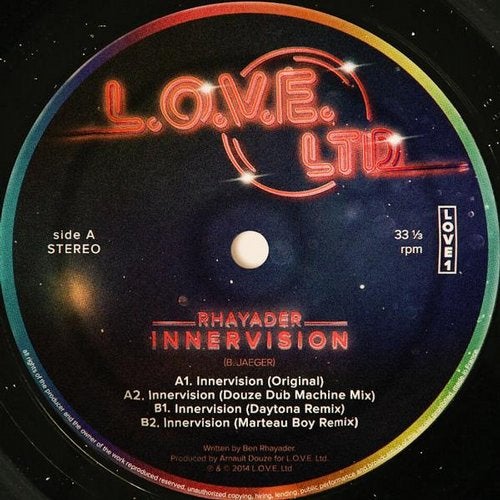 Release
Innervision