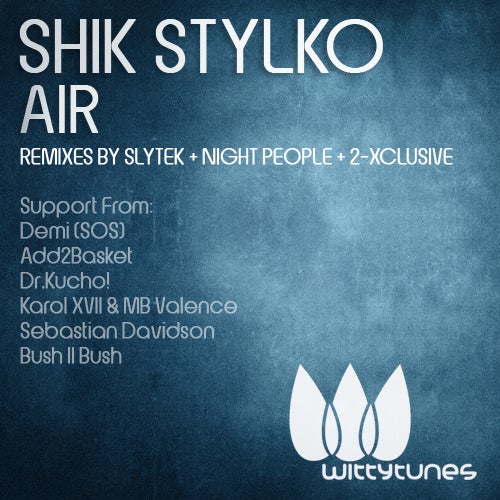 Release Date

2009-02-25

Label

Witty Tunes

Catalog

WT016
Sebastian Krieg and Roman Freihoff are the duo behind Shik Stylko. The two friends have worked together for more than ten years and counting. They have produced underground hits for tons of respected labels and have been featured on numerous compilations, including Luke Fair's Balance 011. Their original and remixed productions have landed in the crate of almost every house and progressive house dj. The tracks on the Air EP are ones you'll most definitely want to include in your arsenal of hits.

The first remix is brought to you by Slytek - the international duo of master Greek producer Dino Christophilopoulos and dj Jon Sinclair. Slytek has been featured on the SOS Balance CD Compilation, so Witty Tunes is proud to have these guys on board with their unique interpretation of Air.

The second remix is a 2-Xclusive take on the orginal. Miami-based members Ariel G and Jesse Perez have featured releases on Sick Watona and Discoteca. They give the Air remix a funky edge. Be on the lookout for these two - they're on the rise!

A. Original
B. Dub
C. Night People Remix
D. Slytek Remix
E. 2-Xclusive Remix

http://www.wittytunes.com
http://www.myspace.com/slytek
http://www.myspace.com/shikstylko

SUPPORT/FEEDBACK:

Behrouz

Bush II Bush

Low End Specialists

Demi (SOS) - "this has been massive for us bruv during the early part of our BALANCE world tour - original"

Saeed Younan - "Dig the Dub!"


Dr.Kucho! - "The Night People Remix Is Amazing!!"

Karol XVII & MB Valence - "original & 2-xclusive for us. thanx"

Sebastian Davidson - "Wicked release! In the box mate"

Jon Sinclair (Slytek) - "This is awesome, very strong production and exactly the kind of track I play."

Acos CoolKAs - "it has a positive spirit and dance power and exactly the kind of track I play."


Add2Basket - "Nice package you got there!!!"

Brian (Glideslope) - "really loving "air" - very emotional and musical"

Latenta Project (Dido) - "love the whole package! still playing the original"

Alexander Dovnar (Deepology) - "I like 2-Xclusive Mix"

Adam Jace - "Thanks for sending mate. Love the deep stabs and the overall energy of the track. Will
support this one for sure!"

Konstantin (Deepology) - "Original & Dub mixes are for me ! Will play this weekend!"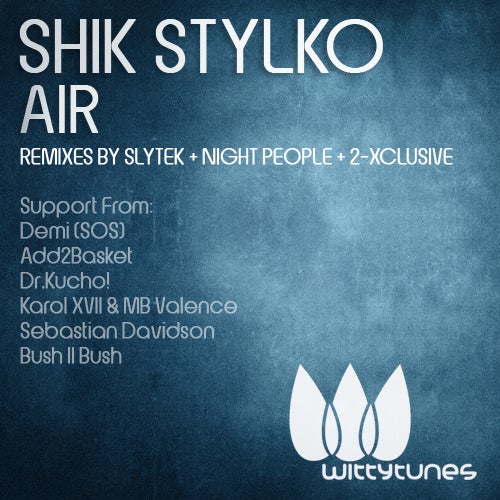 Release
Air EP
Release Date

2009-02-25

Label

Witty Tunes

Catalog

WT016