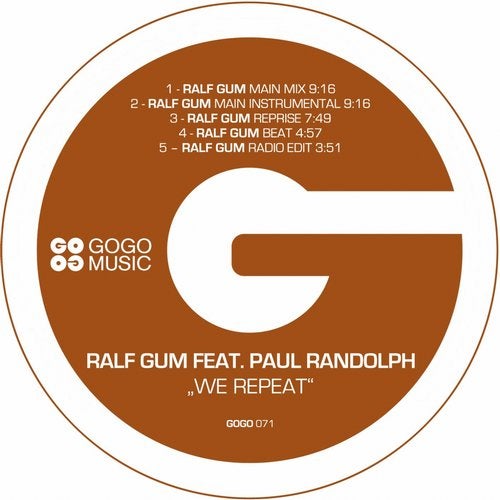 Release Date

2017-09-08

Label

GOGO Music

Catalog

GOGO071
'We Repeat' features soul music legend Paul Randolph on vocals, comes after Ralf's little hiatus from releasing new productions - his last offering was the album 'In My City'. In this latest outing, Paul Randolph delivers a powerful message to the human race, reminding us that we're seemingly not learning anything from our past.

Ralf GUM built his reputation as a matchless musical powerhouse since he ventured into the music industry in the early nineties and is currently locked down in studio working on his next album to be released in 2018. 'We Repeat' surely shortens the wait and raises the anticipation on it. As an artist, he always likes to surprise with unexpected productions and this outstandingly orchestrated afro influenced jazz workout documents this once more. The amazing arrangement contains real strings performed by some of South Africa's best, Susan Mouton and Evert van Niekerk - both from the Johannesburg Philharmonic Orchestra - and dope horn lines played by Kafele Bandele, for both of which Michael 'Nivalito' Ehnes contributed the score. Paul Randolph's flawless vocal delivery and a superb Vibraphone solo by Mathias Haus are the icing on the cake of a song which grew very close to Ralf's heart: "As creative people we ideally want our creations to speak for us, but not too often in life come mood, vibe, situations and possibilities together to ponder about important topics through music and lyrics. After some Skype calls with Paul, we've been on the same wavelength and his lyrics are a perfect conversion of what we both feel needs to be said about the societies we live in," Ralf says.
Paul Randolph is a multi-talented musician who settled in Detroit during his early teen years and who has performed with greats such as Fela drummer Tony Allen, Odetta, Dennis Coffey and Johnny Johnson, to name a few, and has recorded with Amp Fiddler, Carl Craig, iSoul8, and currently, the Berlin-based Jazzanova Live. Randolph's music has been categorized into many different genres; pop, rock, neo soul, jazz, funk, blues, and electronic. His first solo album, "This Is What It Is" was released on Kenny Dixon Jr.'s imprint in 2004 and he has just released a new solo album "In The Company Of Others" on Mahogani Music. Next to his busy schedule, he managed to pen out 'We Repeat' his first collaboration with soulful House Don Ralf GUM. Just as Paul's own music, 'We Repeat' isn't easy to categorize, but has everything of a timeless anthem.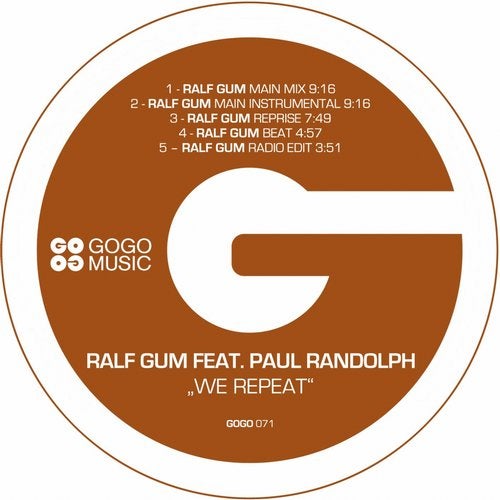 Release
We Repeat (feat. Paul Randolph)
Release Date

2017-09-08

Label

GOGO Music

Catalog

GOGO071