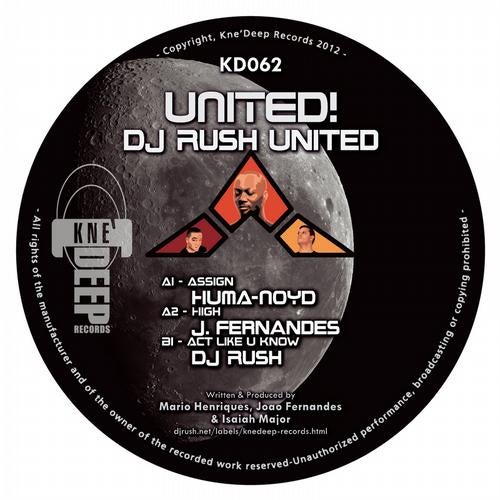 Release Date

2012-03-10

Label

Kne'Deep

Catalog

KD062
UNITED! DJ RUSH UNITED.
Cast aside the mundane world of nightlife and prepare to return to the source. DJ Rush United provides the total package for an unforgettable night. Promoting quality techno with some of the finest acts uniting a cross spectrum of the genre. Uniting the dance floor in the total experience of music with energy, and lots of emotion that allows one to feel and create their experiences. Just as we used to do during the birth of the electronic music revolution, we are together again. We are all United! DJ Rush United brings together the vibes of yesteryear with tomorrow's vision.

Encompassing some of the finest artists, handpicked by Rush himself to provide the perfect musical journey. Introducing J. Fernandes, operating from groovy, funky beats to pounding techno this kid works it all involving the crowd in a non-stop journey into sound. Additionally, Huma-Noyd Live was born to infect everything and everyone with his kind of music. His unique strong music-style is a mixture of Techno and Banging Techno with a lot of energy and power. United presents a unique selection of techno, from tribal, funky, groovy to banging, but with all its energy United. Our styles work well together. We complement each other with a vibe from beginning to end.

But the adventure does not end with just uniting the music. DJ Rush United also provides the very unique experience to unite the music lovers with the artists, by providing the public with limited copies of our releases and the opportunity for everyone to meet & greet the artists. We would like to present DJ Rush United to bring fun and energy back to the dance floor; to give all of us a sense to wanting to go out and let loose and feel free; together again. Are you ready to get United again?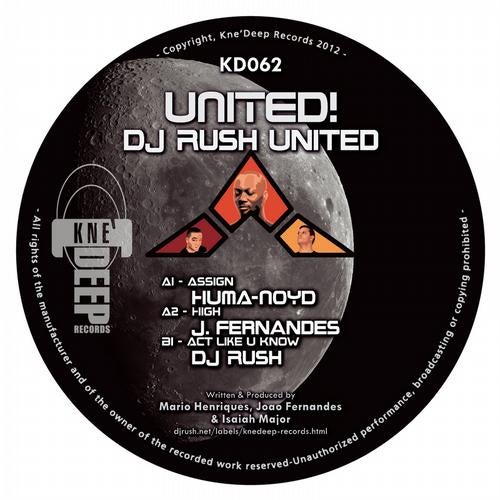 Release
United!
Release Date

2012-03-10

Label

Kne'Deep

Catalog

KD062