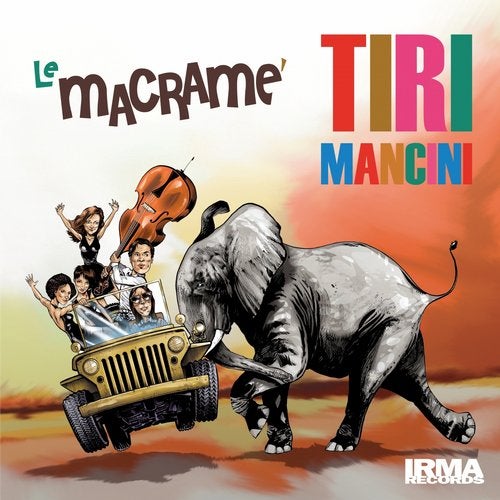 TIRI MANCINI - Le Macrame
This album started out as a vocal experiment, rooted in the desire to approach the world of movie soundtracks and at the same time to pay homage to one of the genre's all-time leading composers: Henry Mancini.
His soundtracks are timeless examples of compositional elegance, and many of his works are marvellous compositions quite independently of the cinematographic context in which they were inserted. The narrative drive behind these pieces in particular gave us the chance to explore a range of different vocal atmospheres: the irony of The Pink Panther, the refined romanticism of Charade and the suspense of Peter Gunn to name but a few. Inspector Clouseau, with its delightful compositional framework, already vocal to our minds, became an exercice de style reminiscent of the Swingle Singers, with an a cappella moment which even our musicians were required to take part in. Baby Elephant Walk - the blues that unfolds pachydermically - is given a unique touch by Andrea Nardinocchi's beatboxing. Lujon (Slow Hot Wind) offered us the chance to put our vocal blend to the test around the image of a slow, hot wind (what else!), attempting to melt into the piano and double bass to form a magical whole.
The aim was therefore to come up with vocal rearrangements of magical cinematographic moments, and in this research, we were naturally led beyond the strictly Mancinian sphere: Ironside by Quincy Jones, already adopted in many soundtracks (e.g. Tarantino's Kill Bill among others), practically turned into a suite, encouraging us to enhance the three voices with Giulia Barba's bass clarinet tones, beefing up the groove based on effect sounds and loops, while the theme of the classic TV series Charlie's Angels remains an introductory divertissement guest-starring the 12-string guitar of Daniele Santimone.
The set comes full circle with the original composition The Crime Scene, created as if it were a genuine movie score, complete with a plot punctuated by rhythm changes and excerpts of spoken dialogue.
We recorded this work in multiple sessions together at Max Tagliata's studio in Casalecchio, and he also dealt with the mixing and mastering.
The cover graphics are the work of our friend and illustrator Andrea Gualandri, who reinterpreted for us the film poster of Hatari, from which Baby Elephant Walk is taken.


BIO:
Le Macrame is a vocal project which began in Bologna around 2009, fusing various different musical experiences: from folk to jazz, making forays into blues and pop-rock, without ever straying too far from the swingin' soul that we all share. Over the last ten years, we have created a broad-ranging and eclectic repertoire, both a cappella and with accompaniment, collaborating with a number of singers and instrumenentalists. For a while now we have been playing as a quintet: the three voices of Elisabetta Dallargine, Michela Pedrini and Serena Pecoraro have been joined by Max Tagliata on the piano, accordion and flute and Christian Pepe on the double bass. And this was the line-up with which we recorded our very first album: TIRI MANCINI.

Among our public appearances:
FESTIVAL D'ALTRO CANTO, Ostra (province of Ancona)
SPINFESTIVAL concert in the artistic lounge of Casa Museo Remo Brindisi, Lido di Spina (province of Ferrara)
AGOSTO CON NOI charity concert in support of ISTITUTO RAMAZZINI research centre, Ozzano Emilia (province of Bologna)
SPANCIRFEST, Varazdin, Croatia
IO FARNETICO the main French Music festival in Italy with the support of SACEM, SIAE, Les Trois Baudets de Paris Piazza Farnese, Rome
M'ILLUMINO DI MENO concert promoting the campaign supported by the Radio 2 programme Caterpillar, Bologna
DENTRO CHE FUORI PIOVE winners of the contest promoted by the Dentro che Fuori Piove Association, Take Five, Bologna
FESTIVAL CENTO CAGE, event paying homage to 100 years since John Cage's birth, Bologna
FESTIVAL SELVA IN JAZZ art director Jimmy Villotti, Selva Malvezzi (Province of Bologna)
BIRDLAND IN BO on Radio Kairos, 105.85 FM, Bologna
IL SALOTTO DEL JAZZ festival promoted by Cantina Bentivoglio, Bologna
A CASA DI LUCIO VA IN CITTA street concert promoted by the Fondazione Lucio Dalla, Bologna.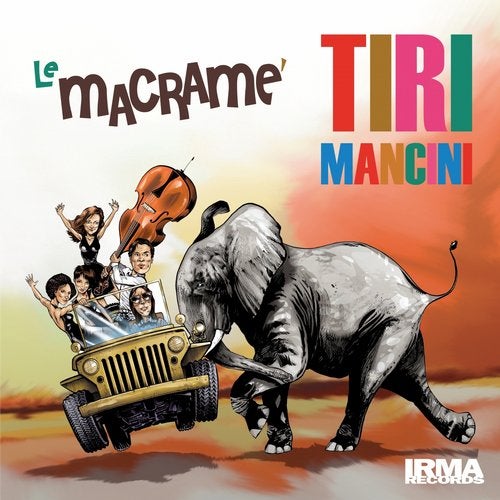 Release
Tiri mancini