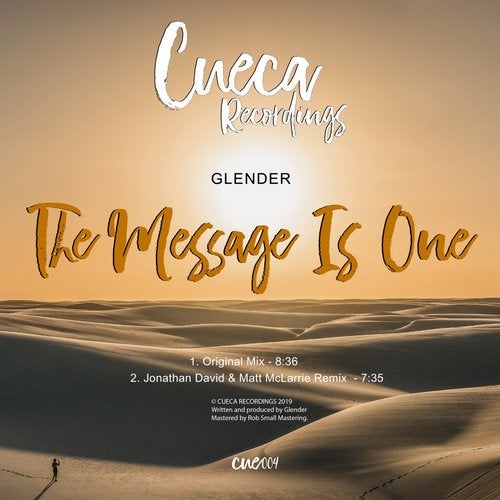 CUE004 is a release that has been in the making for the past few years and we could not be more honoured to finally unveil this very special project. We at Cueca find it of the utmost importance to have a vision in all that we do. The vision that we have established for the label is one of quality and intelligent house music, especially in the realms of world ethnic sound and tribal experiences. In that spirit 'The Message Is One' EP is brought to us from our dear friend and brother Antonio Tavares from Lisboa Portugal. Antonio is known to fans and DJs simply as Glender. For the past twelve years, he has become one of the most recognized names in house music and is very well known for his particularly special talent of creating some of the most beautiful and timeless ethnic productions in the world. He has been a massive influence and friend to Cueca Recordings as a whole, and this release could not be more special for the Cueca family.

'The Message Is One' is a journey through classic Glender organic drum treatments and as always it is an expression of his personal experience. World instruments and tribal chanting set the tone while his use of percussion carries the track to the to that magical place his music is known to take you. Cueca Recordings wholeheartedly welcomes Glender to the label with this wonderful original production to start off 2019.

On the remix label bosses Jonathan David and Matt McLarrie put their own personal spin on this already amazing original. Their addition of grinding basslines and vocal chops give it their own direction but just as dance floor ready as the original. Cueca Recordings proudly presents 'The Message Is One' EP...with love...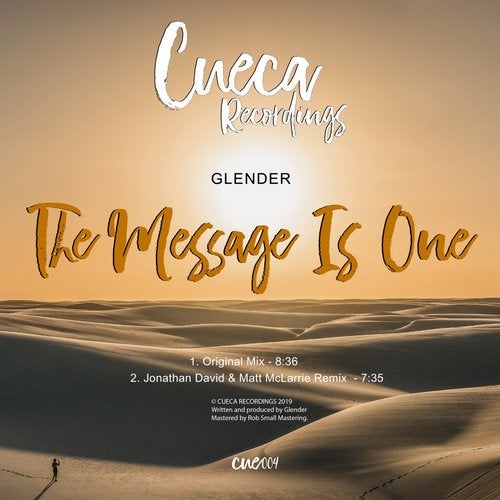 Release
The Message Is One