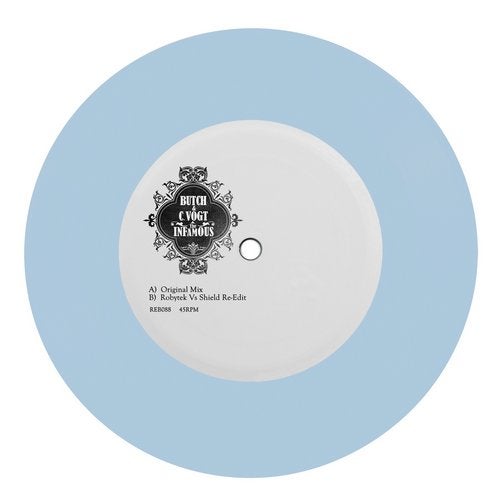 Release Date

2014-06-09

Label

Rebirth

Catalog

REB088
We are so excited to present you 'The Infamous', the collaborative project between Bülent Gürler AKA Butch and C. Vogt !When we have heard it for the first time at the Rebirth office we jumped on the table sayingwooowthis is an amazing piece of music !An infectious tune, a combination between a subtle jazzy drum pattern, a driving bass line, strings and an irresistible rhodes theme, all played live. Something you would never stop to heargenerating tension and excitement at the same time !
The track shows the incredible ability of both producersWith over 20 years consumed by a thirst for electronic music, Butch has released on leading imprints such as Desolat, Cocoon, Rekids, Sei Es Drum and beyond, while maintaining a solid DJ schedule thats seen him open the minds of crowds at Fabric, Time Warp and his residency at Berlins Watergate. He says 'I absorb influence and ideas from everywhere...so, as my music has many styles, I like to make different styles too'. Its true that with Butch, you never know what to expect, other than consistently sounding fresh and unique output.
'The Infamous' is the expression of Butch's attitude and the musical enthusiasm of C. Vogt, son of the violinist K.Vogt and a great musician, who started studying the piano and saxophone and rapidly entering walls of the world of electronic music !On the B Side Robytek and Shield re-edit the Original version adding their distinctive groove for more dance floor action.Hope you love it as much as we do !

FEEDBACKS

DENNIS FERRER "Lovin' that shit!!"
JAMIE JONES "really really nice record. fresh"
DJ T / MANDY "great track!"
dOP "This record is beautiful. I have 2 dj gigs tonight will play it loud"
LOCODICE "Sounds really good. already on my MK II"
TENSNAKE "hit alert,absolutely love it"
SHINEDOE "Nice production, sounds great."
REBOOT "Great ep will def play it!"
TRICKSKI "plain and simple: WHAT A BEAUTIFUL RELEASE. both versions are amazing! "
VALENTINO KANZIANI "Nice and very musical, love both sides.. Each side for a different moments.."
NUNO DOS SANTOS "wow summervibes all over!!"
LAUHAUS "amazing track! "
DUBFIRE "Love it !"
ROUND TABLE KNIGHTS "Bombe! Love the remix"
HACKMAN "both versions sound big!"
ANDRE' HOMMEN "Wow thank you Shield. Amazing record... "
ADRIATIQUE " Love it !"
SILICONE SOUL "that's really fantastic, amazing jazz vibes"
ROBERT LUIS (TRU THOUGHTS) "Love it !"
SASHA DIVE "Great stuff. Will play it for sure"
RIPPERTON "I really dig Shield & Robytek remix!!! such a good vibe!"
TIM GREEN "Love this tracks a lot! especially the shield edit!"
TIGER STRIPES "Fantastic track! This beauty is the best thing i've heard so far this year. Instant classic! "
X-PRESS 2 "Just got this killer!!! "
DANNY KRIVIT "Heard this when I was in Japan last week... is this your edit?Hot !"
CLAUDE MONNET "Just Magnifique!!!!"
TERRY FARLEY "reminds of that HOT HOT record"
MARC ROMBOY "Sounds fantastic ! "
TOBI NEUMANN "I love it !"
TECHNASIA "nice one! the edit is dooope. it was a blast at ibiza opening!. "
ANDREW GRANT "Robytek vs Shield mix is sick!!!!!! nice work man"