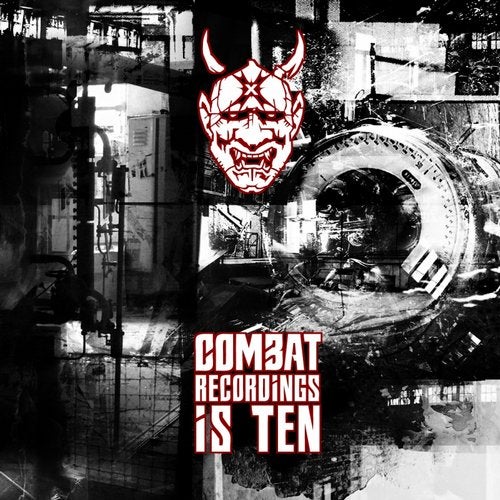 London based electronic label Combat Recordings celebrates 10 years of audio assault with a huge compilation of sonic weaponry from old and new members of it's clan.
Started in 2004 by Stormfield with "Anger is Strength" etched into the inner groove of the label's first 12", Combat label has grown to 34 releases and with nearly 50 artists and crew on board. Its aesthetics of powerful, disciplined sonic aggression are informed by the low-end bass mechanics of London soundsystem culture (jungle/ early dubstep), the cinematic future dystopia of electro and the intricate, glitched out details of electronica and noise. For relatively small label that stubbornly carves out it's own warped sonic territory, Combat punches way above it's weight, remarkable in it's ability to absorb a wide scope of influences and yet forge a tense sound distinctly it's own, non-compromising yet constantly evolving, which has won DJ support from the likes of Surgeon, Aphex Twin, Plaid, Rob Hall, Mary Anne Hobbs, Rob Booth and many more.
Predictably, the label pulled out all the stops for this compo with an impeccable selection from start to finish, showing its knack for sniffing out new artists and pushing them alongside established legends, with extensive remix work to combine diverse strengths between producers. Some tracks come from artists at the very beginning of the label's history, while others feature entirely new names that hint at the label's future releases.
"Ten Years" comprises of a hefty 19 tracks that span the range of the label's artillery, kicking off with a cinematic intro from Stormfield/Nonima and immediately leads into some a masterwork of tense breakbeat brutality courtesy of Ontal.
Ireland's Anodyne brings on a cold, majestic atmosphere and keeps it heavy while showcasing the wonkier technoid side of Combat, while House of black Lanterns' Dylan Richards revives his "King Cannibal" moniker to deliver a slice beautifully brutal techy dancehall dystopia, like a fusion of Ed Rush and Optical mutated with The Bug.
Warp and Planet Mu artist Milanese also resurfaces here with "Return to Iacon City", a fresh track referencing the bosh-bosh-THWACK riddims of drum'n'bass restructured as 140bpm weapons-grade techno.
Nonima's Monolith references deep, spacy structures that sit between electro and techno with a healthy serving of sub, and hints at his future releases on the label.
Another future Combat artist is hinted at with the inclusion of the notorious London-based sound artist Marco Donnarumma, here working his academically conceptualised body-instruments with the computational dancefloor discipline of Berlin-based deep techno specialist Create Her.
Bringing things back into sinister territory comes Fausten (a collaboration between Monster X and Stormfield), switching the lighter atmosphere to a darker one and thickening it up toward the bottom end with a snarling 140bpm halfstep crusher of lucid, rapturous destruction.
The Bulgarian-born, London-based Errorbeauty steps up the 808 electro pressure and adds a touch of playful melody and sparsely placed hints of 303, while keeping that low end sludge rolling.
Perhaps the gem among gems of this compilation is a "Gravel Bed" by the mighty Mick Harris aka. Scorn, here reworked by audiovisual artist Zan Lyons into an epic, cinematic assault of noise, subs and tense melodies that build and build like a gigantic storm, exploding then collapsing into rapturous time suspension, the sublime wintery keys like snow falling over the remains of a burning, crushed city.
Longtime Combat artist Point B brings forth his take on the label's sound, with bubbling Detroit-style pads working over shuffling 2-step electro beats like an evolution of the sound on his Suicide Beauty Spot album.
Next comes longtime label collaborator Monster X, who applies his expert sound design skills and bass mechanics to hardcore metal aesthetics, resulting in a sleek, prowling halfstep behemoth that'll fry your brain with precision.
Label boss Stormfield goes off on an obtuse acid electro tangent for his contribution, with broken dancefloor rhythms and razor sharp snares over 9 layered acid lines that sound like little aliens having an argument.
French mentalist and sound designer Subjex contributes a humming alien soundcape while the label's first ever artist ScanOne comes in with a deep, rolling electro smasher that would do proud the likes of 2 Lone Swordsmen or Radioactive Man. Continuing the electro theme is Scotland's wee DJs, with a surreal flow-of-(unhinged)-consciousness vocal over fast-paced analogue-sounding grooves.
Perhaps the curveball of the album is Fungus Gnat Fighting by Cursor Miner, a long, expertly crafted beat workout that pounds the dancefloor yet remains gymnastic and unpredictable, keeping you engaged but guessing all the way till the very end.
Dead Fader comes in at the end with a punchy, dynamic beat workout that's short and cheeky but more than makes up for length by sheer LOUD volume (well it IS Dead Fader, what do you expect?)
Closing off the compilation is a beautifully mournful, grand desolation of stringwork by Anodyne, suitably titled "No Gods Come Here"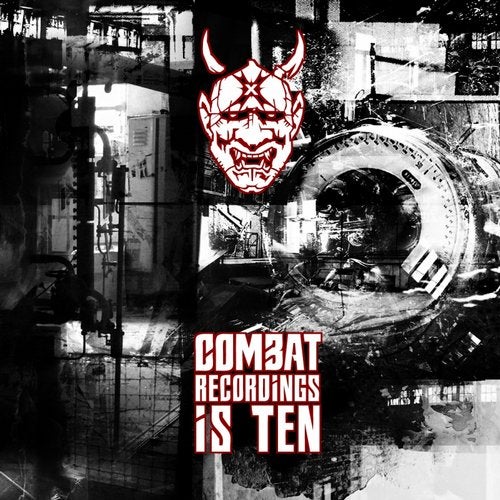 Release
Ten Years of Combat