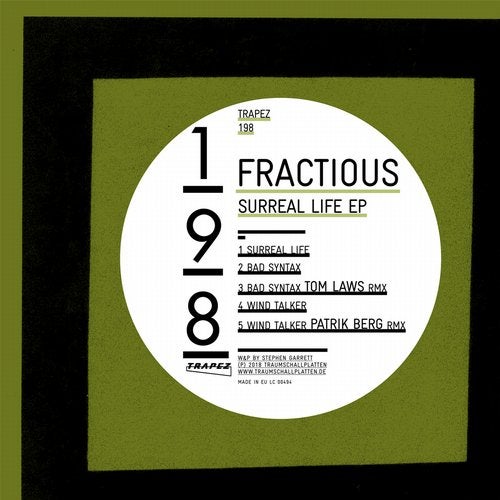 Release Date

2018-02-09

Label

Trapez

Catalog

TRAPEZ198
We welcome back Irish producer Fractious who with his new Trapez release has built an EP around the track "Bad Syntax", a track we have eyed for some time now and finally can release as part of a full EP with two great remixes by Tom Laws and Patrick Berg.

For all of you who are not familiar with Fractious, he has been an integral part of the British techno scene for years. He also has a great personality! Recently he has recorded for Natura Vita Black and for Tronic. One track of his was used in an official Minus Tour video and was the first track in Richie Hawtin's BBC Radio One Essential Mix recorded live from Enter @ Space, Ibiza.

Fractious new EP kicks of with "Surreal Life" a powerhouse of a classic techno track that has that Detroit/ Kevin Saunderson feeling sitting inside.
Here he introduces new elements step by step and so creates a track that can grow on you naturally, showing the deeper side of techno.

"Bad Syntax" as the title conveys is a sick track. It is full of exotic FX and drop of sounds reproducing that spine tingling, nervous energy which can be nice to have on the dance floor! Fractious has the guts to elaborate on that feeling in a long break which shapes that perfect 'freak out' passage for the club. Hooray!

Tom Laws debut album was released on Italian DJ/producer Sasha Carassis Phobiq label in 2016 and since the he has risen in the UK techno scene.He chose "Bad Syntax" for a remix and added a killer groove and massive production to transport the track undoubtfullyinto the clubs.

The last of the original trax is "Wind Talker" which Fractious takes into the direction of classic Detroit techno including a spooky break which is the highlight of the track.

The last track is a remix of German producer Patrik Berg who has recorded for Tronic and Filth on Acid and more.His remix of "Wind Talker" is a more new school take on of the original. It has lots of killer FX snippets and cutting edge acoustics and a more spontaneous and hence very lively & fresh arrangement that is likely to rock any crowd.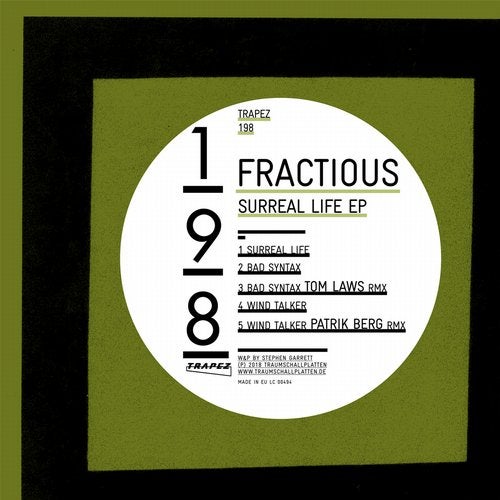 Release
Surreal Life EP
Release Date

2018-02-09

Label

Trapez

Catalog

TRAPEZ198