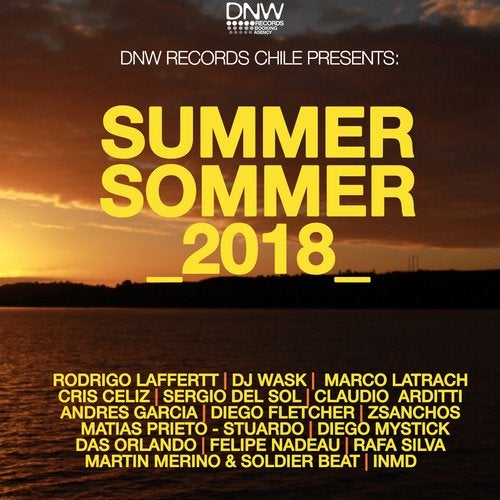 Release Date

2018-01-25

Label

DNW Records

Catalog

DNWR180101
REVIEW
Para este Verano 2018, juntamos a los más destacados djs de la escena Nacional en un solo disco, compilado en el cual sus tracks nos deleitaran con sus estilos musicales estando a la vanguardia en el tech house, minimal y techno.
Nuestros artistas nos presentan sus nuevos éxitos para que disfruten estas calurosas vacaciones.

TRACKS:
1. Sergio Del Sol - Gamma (Original Mix)
2. Passgar - Let Rolling(Original Mix)
3. Marco Latrach - Come To The Mothership (Original MIx)
4. Cris Celiz - Nocturno (Original Mix)
5. Diego Mystick - 1978 (Original Mix)
6. Dj Wask- First One (Original Mix)
7. Zsanchos - Solar
8. Das Orlando - Know What I Mean (Original Mix)
9. Diego Fletcher REMEMBER (original mix)
10. Rodrigo Laffertt - Que Sorpresa (Original Mix)
11. Dj Wask - Acid House (Summer mix)
12. Andres Garcia - Summer is house ( Original MIx)
13. Martin Merino & Soldierbeat - Haiti II (feat.Billy G)
14. Rafa Silva - Rock N Roll
15. Matias Prieto, Stuardo - Lost My Mind (Original Mix)
16. Claudio Arditti - Nocturno
17. Inmd - Wicked Game
18. Felipe Nadeau - Orga nico Respirar
19. Rodrigo Laffertt - Vocal Tools El Señor Etchaide


BOOKING AND REMIXES REQUEST
artists@dnwrecords.com

SERGIO DEL SOL: Dj y productor musical, proveniente de la Ciudad de Barcelona, ha estado estado en escena por más de 15 años, destacando su estilo musical en el Tech House.

MARCO LATRACH: Con 18 años de carrera como productor musical y dj, ha editado trabajos en Chile, Europa y Estados Unidos; cautivando a la audiencia con su sonido conmovedor logrando hacer del Tech House un género importante en Sudamérica.

CRIS CELIZ: Productor y Dj que ha compartido grandes escenarios con artistas como Apollonia, Martinez Brothers, Carlo Lio entre otros; desenvolviéndose en el Techno y actualmente creando trabajos con Débora De Lucas.
DIEGO MYSTICK: Destacado Dj y productor Colombiano, reconocido en la escena Sudamericana con su más notable estilo musical como el House y el Techno, actuando en diversos clubs y festivales internacional.

DJ WASK: Es uno de los íconos de la escena musical Latinoamericana como dj y productor, creador de la primera Escuela de Djs del país DJ SCHOOL ha obtenido el primer lugar en campeonatos internacionales; reconocido como pionero de la música electrónica Chilena; llenándonos de energía con sus shows y sets inigualables en cada presentación; con más de 2 décadas de experiencia.

DAS ORLANDO : Con 13 años en las pistas, entregando lo mejor de sus producciones musicales nos alimenta con referentes como el techno house y trance.
RODRIGO LAFFERTT : Destacado productor musical, oriundo de la ciudad de Talcahuano, ha sido artista revelación de la música house; sus exitosos tracks han sonado de la mano de Djs mundialmente reconocidos.

ANDRÉS GARCÍA : Su estilo oscila entre el tech house, deep house y techno, creando un balance en la atmósfera de cada pista de baile, reconocido como uno de los mejores djs y productores de la ciudad de La Serena.

SOLDIERBEAT : Chileno que actualmente reside en Panamá, ha logrado crear una armonía conceptual entre el house y el techno, compartiendo escenarios con grandes Djs.

RAFA SILVA : Dj, Músico y Productor Chileno-Alemán con una amplia trayectoria musical, se reinventa haciendo vibrar los clubs con su destacado estilo musical Techouse.

MATIAS PRIETO : Con más de 10 años de trayectoria musical, ha viajado por muchos paÍses que lo han llevado a desarrollar sus proyectos más importantes en la producción musical mostrando sonidos como Deep house, Techno y Minimal.

CLAUDIO ARDITTI : Argentino residente en Chile, se destaca por su estilo en el Deep psicodélico y progresivo creando una atmósfera envolvente en cada una de sus presentaciones.

FELIPE NADEAU : Nativo de Santiago, actualmente reside en Canadá, produciendo su música que navegan entre el Minimal deep y sonidos experimentales de raíz étnica, demostrando sus habilidades como tal en Europa.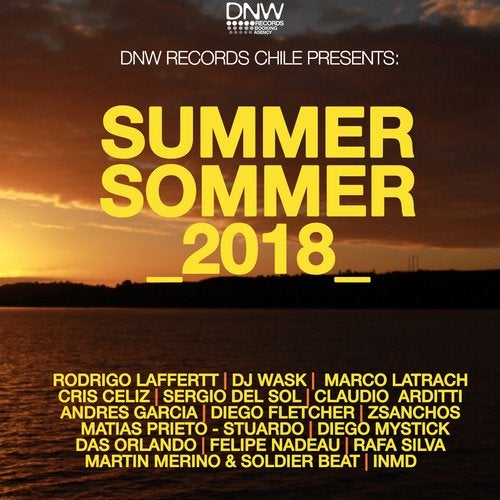 Release
SUMMER SOMMER 2018
Various Artists

Release Date

2018-01-25

Label

DNW Records

Catalog

DNWR180101