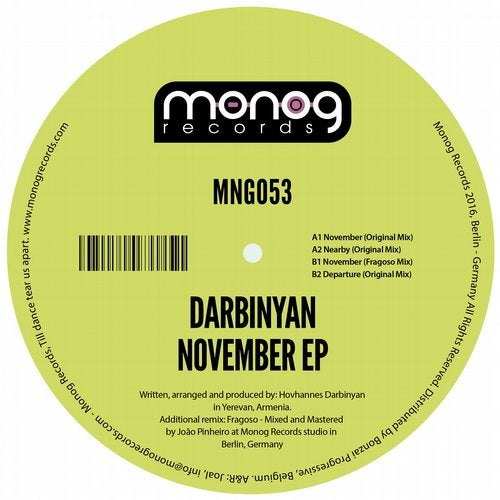 Armenian DJ and producer Hovhannes Darbinyan aka Darbinyan debuts on Monog with the fantastic November EP. He has been passionate about music from a young age and in 2006 he started to produce his own sounds. House and Techno were his main styles and his first release was a remix on Chymera's The Fathoms, released on Connaisseur Recordings. Several other releases followed on labels like Unknown Season, Muller Records, Prismat Recordings, Loup Blanc and Blossom Kollektiv Recordings. His tracks have gained support from many jocks around the world including Kevin Yost, Kaito, Chymera, Nicole Moudaber, Tensnake, Of Norway, Ame, Ian O'Donovan, Mije Van Dijk, Anthony Pappa, Jimmy Van M and more.

First up we have the title track November which intros with a cool kick layered with bright snappy hits and a crispy offbeat hat. A superb deep bass slowly pulses into the sound creating a wonderful texture as rhythmic drums form up in the background. A subtle synth stab makes its way into the sound and brings a tech element to the deep groove. A top notch slice that would be a welcome addition in any set.

Nearby is up next and intros with a real cool kick drum and snappy snare alongside a stuttering closed hat. Melodic arps begin to open up and are soon joined by a deep droning bass that takes over the sound beautifully. The intro breaks soon transform into a full on 4x4 beat and the track settles into its deep rooted groove. Cool vocals are scattered all around the track and bring a nice texture to the sound as those arps relentlessly cascade up and down. An excellent slice of tech that you will not want to miss.

Fragoso steps up to remix duties on November and once more he delivers a solid slice for our listening pleasure. No stranger to Monog this guy knows how to work a track. He last showed up round these shores back in June 2015 on the remix for Roland Sousa's Pick n Bite EP which gained great support from all over. Here he gives us a real smooth deep house cut filled with warm chords, lush basses and rich pads. A tight drum section provides a steady flowing rhythm and will surely keep the floors moving. Cool keys also play a part in this superb deep groove making this a definite must have track for any jock.

Departure intros with a nice bassy punch that resonates beautifully through the speakers and hooks you in instantly. A cool shuffling hat section provides a steady flowing rhythm alongside equally cool vocal snippets that litter the sound. Smooth keys come through bringing a nice house flavour to the techy edge of the sound. Top notch stuff with a nice dancey vibe, a must have.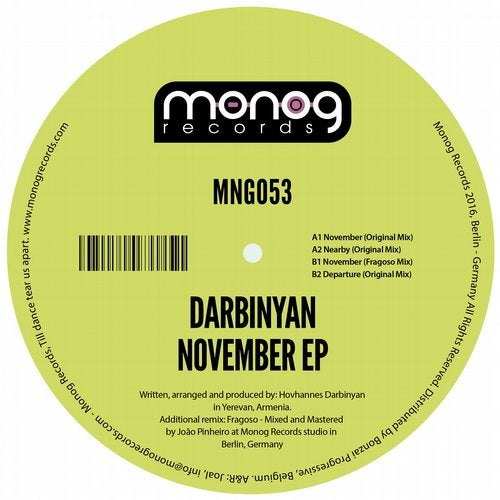 Release
November EP