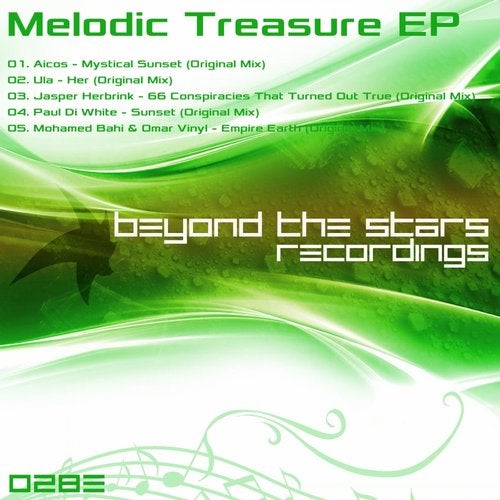 Release Date

2015-02-23

Catalog

BTSR028E
What is next on Beyond the Stars Recordings? A quantity of precious and valuable material; yes, its a TREASURE!

There's nothing better than whole treasure full of melodies, so there's nothing better than what we've got up next! 5 melodies, 6 featuring artists, and unlimited amount of euphoria - these are the contents of our upcoming treasure!

Melody number 1 is 'Mystical Sunset' by the Venezuelian producer Aicos. He set foot in the trance industry in 2013 and is making his place in the industry by delivering some commendable releases. With 'Mystical Sunset' he brings a soothing track, with uplifting qualities, the breakdown of which, is mesmerizing in all senses!

Melody number 2 is brought to you by someone who is not new to this industry, in fact is spreading fast around the globe because of his talent. Renowned producer Ula delivers yet another massive uplifter named 'Her', which is a supreme jewel if our treasure!

Melody number 3 is '66 Conspiracies That Turned Out True'. This track doesn't just have a unique name, it's unique in all aspects! Jasper Herbink, from Netherlands, delivers a tune that completely diversifies the Treasure; its definitely something to look forward to!

Melody number 4 is 'Sunset' brought to you by a debuting artist. Ukrainian talent 'Paul di White' provides us with a tranquilising tune, with simple combination of arps and basslines. He shows how simplicity can bring the best out of a track. That is why we're glad to have this tune as a part of our Treasure, we are sure you will like it!

Melody 5 is a result of the collaboration between the rising star of Morocco & the Egyptian talent, debuting on our label. Mohamed Bahi & Omar Vinyl deliver 'Empire Earth'. We are very sure that this tune will win your heart in one go. That is why it is one of our jewels in the Treasure!

The concoction of all these 5 melodies formulate on treasure that we have for you: the mega 'Melodic Treasure EP'!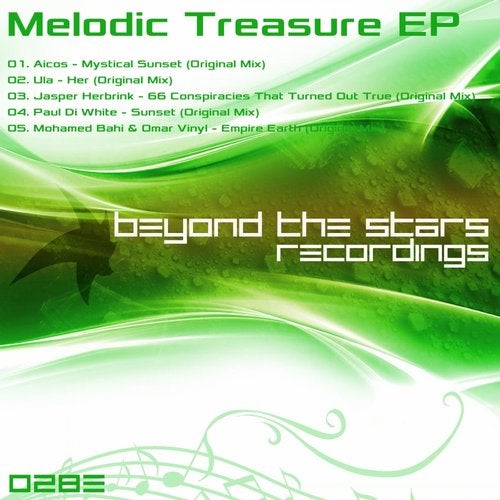 Release
Melodic Treasure
Release Date

2015-02-23

Catalog

BTSR028E