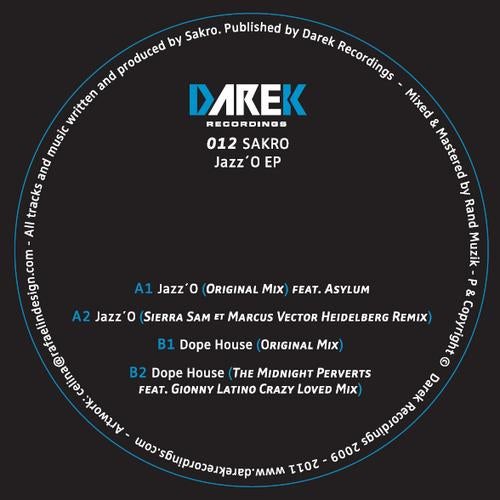 Release Date

2011-07-05

Label

Darek

Catalog

DRK012
After a well deserved winter pause, Darek is back with a new vinyl edition, perfect for the start of the mild and sweet sunny days! This time, the Swiss/Argentinean label offers something smooth and fresh. Sakro who is a young producer from Mexico, delighted us with these deep house gems. For the vinyl, he produced two original tracks; one of them is featuring Asylum. For the special digital edition, he offered us two more productions of his own. Were also very lucky to have Sierra Sam, Marcus Vector as well as The Midnight Perverts featuring Gionny on board, for the remixes! But now, lets talk about the music

A1 JazzO (Original Mix) feat. Asylum is an ideal beach track, with that light touch of joyful house and a very deep groove. You could think this track comes from some jazzy corner of Chicago, but it was produced under the heat of the Mexican sun. The vocals and the piano match delicately in a perfect way, its gentle and strong at the same time. Great for your warm up or a beach event during this summer. For sure, youll find many occasions to play this amazing track.

A2 JazzO (Sierra Sam et Marcus Vector Heidelberg Remix) offers an analogue rework named after the famous Heidelberg Street in Detroit. Sam and Marcus opted for a slightly more pumping and melodic style, but still kept the deep origin of Sakros composition. The analogue generated production is remarkable, useful for different styles of dance floors and very effective. The Toys for Boys duo did it again, and were proud to release this piece of art.

B1 Dope House (Original Mix) flirts even more on the deeper house and mid tempo tip, with some great keys and low bass lines. It allows you to build a very effective ambience into the crowd and can be used also for an opening of a concert, something of a different style. Its a multifaceted production full of surprises.

B2 Dope House (The Midnight Perverts feat. Gionny Latino Crazy Loved Mix) is the final touch of this irreproachable record. Its sexy, a bit erotic; it has something hypnotic mixed together with the perfect dose of groove and some old school influences. Now, let the energy flow and enjoy these sounds, ready to take you wherever you want to go...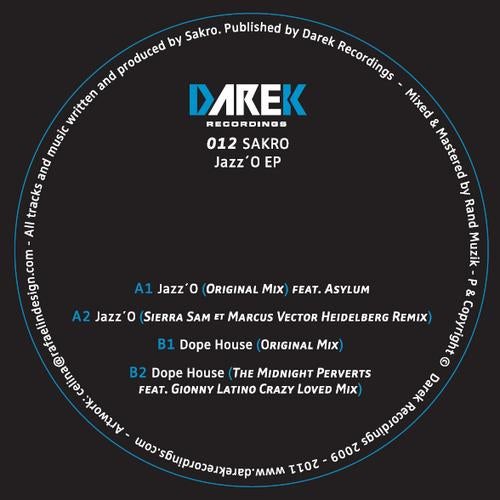 Release
Jazz'O EP
Release Date

2011-07-05

Label

Darek

Catalog

DRK012