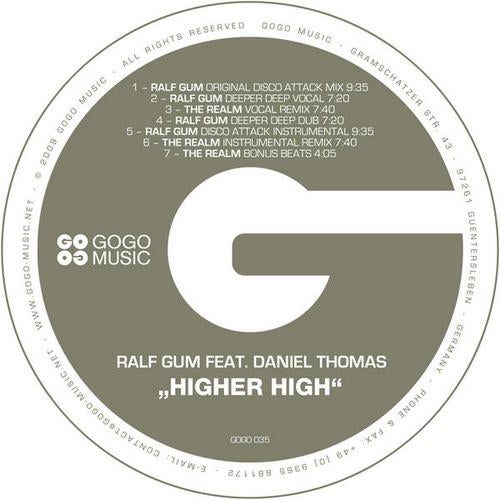 Release Date

2009-03-30

Label

GOGO Music

Catalog

GOGO035
GOGO Music continues its superb output with this disco
stomper by Ralf GUM who features UK vocalist Daniel
Thomas on the title 'Higher High'. Ralf GUM made it to one of
the highest respected figures in the house music scene due
to the distinctive qualities in his exceptional productions.
Without a doubt he has made his name and his label GOGO
Music, particularly familiar names to any house music fan.
Always searching for originality in his productions he returns
with 'Higher High' to his disco roots and blends the soulful
funky keys played by keyboarder and composer Michael
'Nivalito' Ehnes with a stomping rhythm and some delicate
percussive patterns. Plenty of strings, brass, guitars and
driving bass-line are added to create a song that stands out
far from the mass of mediocre records being released.
Wherever a 'Higher High' is there has to be a 'Deeper Deep',
as well. With these mixes Ralf showcases his love for more
abstract structures that should satisfy all house heads who
are looking for serious deeper action.The unique vocal
performance by Daniel Thomas intensifies the disco feeling
to a max. Daniel is a multi faceted, multi dimensional talent
who began singing and playing the piano since the age of 5
years. A bigger platform for his talent was created when he
was taken under the wings of The London Community Gospel
Choir and very swiftly rose through the ranks of as Choir
director for 5 years. This grounding has afforded him a
prominent place both within House music and the Gospel
music scene in the UK. As an artist in his own right, he has
won audience the world over with his amazing vocals and big
flamboyant personality - to crowds as much as 100.000
when he performed at Party In The Park under the name of
Blockster (Number 3 single in the UK charts), appearing on
the same bill as Westlife. He has toured extensively
throughout Europe and as far as Japan, South Africa, India
and USA. Rounding the release of is one of UK's fine exports
in house music - The Realm. Consisting of Toni Economides,
Pete Kuzma and Oli Lazarus, The Realm have made
themselves a prime name in the biz with their releases on
Papa Records. Toni is a member of KV5 and one of London's
most sought after producers and engineers. You'll find Toni's
name on a lot of the hot records coming out of London these
days, working with artists such as Bugz In The Attic, Da Lata,
Tarantulaz, Fanatix as well as Reel People. Oli is the founder
of Papa Records and Reel People. 2008 was a big year for
him, with Reel People releasing their second album 'Seven
Ways To Wonder' which won the plaudit of critics worldwide.
Pete is an outstanding keyboarder and worked with some of
the biggest names in the business including Jill Scott, Jazzy
Jeff and has recently returned home after going a world tour
playing keyboards for Kanye West. Together they delivered
a great rework of 'Higher High' making it perfect for the
soulful DJ-sets.Ralf GUM feat. Daniel Thomas 'Higher High'
draws again a true distinction in the consistent quality of
productions that have come from GOGO Music. This is a
record that will stand the test of time!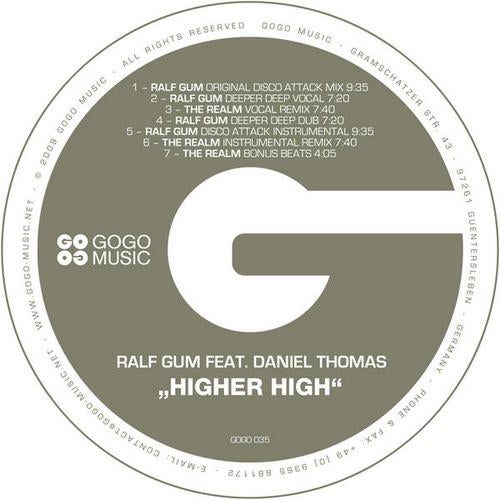 Release
Higher High (feat. Daniel Thomas)
Release Date

2009-03-30

Label

GOGO Music

Catalog

GOGO035