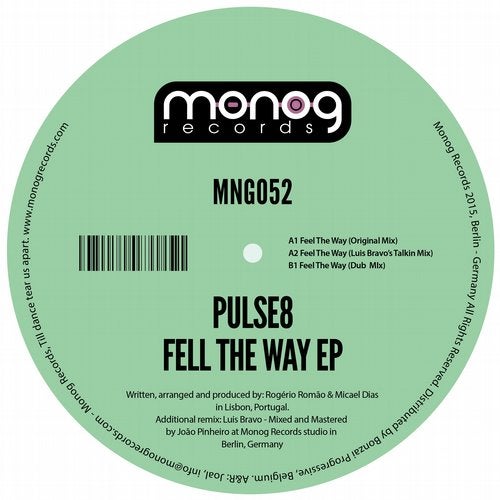 Rogerio Romao and Micael Dias aka Pulse8 debut on Monog with the superb Feel The Way EP. This exciting project was born out of a collaboration between two artists with very different backgrounds and influences. They've joined together to create a unique sound that is not bound by genres, but purely good taste. They utilise various media formats in their DJ sets to deliver their intricate mixes filled with quality sounds that create emotions and tell a story. Great to have the guys on board and we hope to see more from them soon.

First up we have the Original Mix which intros with a nice punchy kick drum and some cool crispy hats that are soon joined by snappy claps to really get the rhythm flowing. A wonderful deep probing bass lurks on the low end settling us into a solid groovy mover. The vocals really stand out here and offer great character to the sound. As the layers build we find ourselves totally hooked into this one as it hypnotises our senses. Superb stuff that will definitely be a welcome addition in any set.

The Dub Mix offers up the same deep exploration as the Original but with minimal vocal and a slightly darker tone. Still a must have track that will beef up any late night grooving set.

Portuguese DJ and producer and a Monog firm favourite Luis Bravo delivers his fantastic remix. We last saw Luis back in March with his remix of Kruno Kereta's Ball & Chain EP, although he has shown up on various compilations for Bonzai and on Monog's 5 year celebration - Monog Records 5 Years Side By Side. Always a pleasure getting this guys work in the inbox and we are sure to see much more from him in the future. The remix sets out with a real cool urbanised theme as punchy kicks join crispy hats and a distant vocal that echoes in and out. A lush, warm chord teases us as the percussions start to ramp up the rhythm. The vocals sit perfectly within the sound here and keep you locked on to the narrative throughout. The bass takes all the glory here, a smooth, deep subby pulse that will really shake up the bass bins no doubt. A top notch slice of deep techy house that is a must have track for your collection.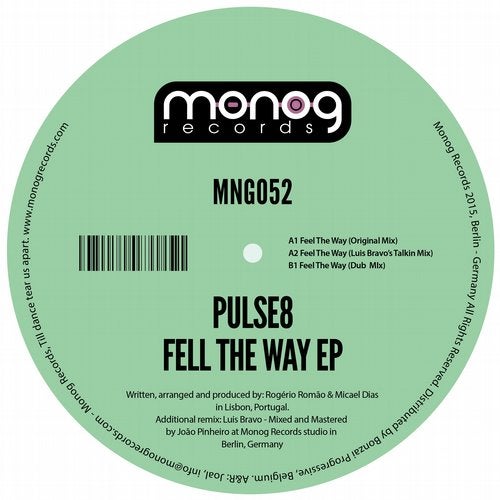 Release
Feel The Way EP