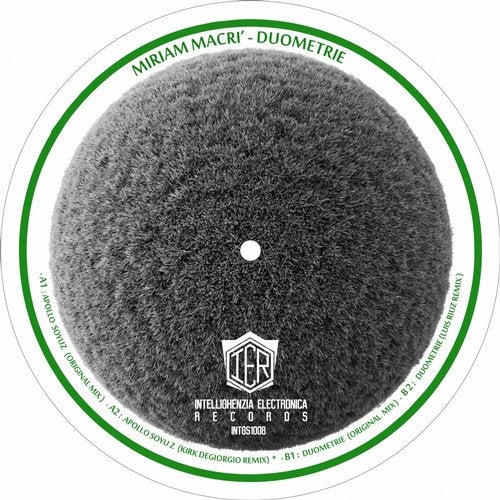 Release Date

2015-06-19

Catalog

INTGS1008
MIRIAM MACRI - DUOMETRIE
A1 Apollo Soyuz Original Mix
A2 Apollo Soyuz Kirk Degiorgio Remix
B1 Duometrie Original Mix
B2 Duometrie Luis Ruiz Remix

VINYL 12" INTGS1008
DIGITAL INTGS1008
INTELLIGHENZIA ELECTRONICA RECORDS

MIRIAM MACRI
class of '89, since very young she cultivates her passion for electronic music, spending her adolescence in the most important italian clubs.Going on, she focused her interest on Techno music but she is always searching for new sounds

LUIS RUIZ
From Argentina, living in Buenos Aires, he was born on 1982; since he was a child he was influenced by the Acid House sound of the 80s. He began his career of musical production in 1996, when he was 14 years old. He decided to take the way of the musical production, being influenced by djs/producers of the 80s …
When he was a teen, he went to the first rave parties realized in his country during 1997, specifically watching performances of live music done with synthesizers and drum machines.
After a year of rave parties he specifically begins to go to underground clubs of Techno music, where he will learn about the sound that will mark him for the rest of his life.
In 1998, he starts doing "acid-house" and " techno acid " influenced by the synthesizer Roland TB-303, and the classic drum machines TR-707/808/909; and appear his first Hard Techno projects been strongly influenced by the rave movement of the moment.
Totaly focused to Acid techno sound, hard techno and Detroit Techno, Luis Ruiz searched to resurge the old school techno who had lost the roots of the genre..

In 2010, he founded his own label : Subsequent Records, classic techno style, and in 2012 he re-founded his own with a vinyl label: Subsequent Records LTD with Triplevision (Holland).
August 2012, Luis is resident of Cocoliche club (Buenos Aires) into "Black Tunnel" cycle ... doing live performances of his own productions, Live-PA format playing hardtechno to 135 bpm, and acid with 303 and hardware gear.
- In 2014 born his second vinyl label: Orioni Records with Decks (Germany), focused into the argentinian techno scene, bringing all the futurist and old-school music from South America to the world.
Now, releasing music in labels like: Subsequent Records, Orioni, Warm Up Recodings, Traut Muzik, Krill Music, Planet Rhythm, PoleGroup Recordings, among others...

KIRK DEGIORGIO
One of the most respected DJ/Producers in the world, Kirk Degiorgio began his DJ career aged
15 in his adopted hometown of Ipswich, Suffolk in the UK.
Raised on a musical diet of disco, funk and electro - Kirk would spin sets on borrowed
1200's for the local B-Boys at break-dance contests before moving on to his first
club night Sweat in 1986.
Moving back to his birthplace of London, Kirk worked for Reckless Records - seeking out rare
and undiscovered vinyl on trips to the US. After a chance meeting with Derrick May at a UK
Inner City gig, Kirk made the trip to Detroit in 1990 and hooked up with artists Juan Atkins,
Anthony "Shake" Shakir and others.
Inspired by the studio setups at Metroplex and Transmat, Kirk sold his vast vinyl collection
to fund his own equipment - locking himself away for six months before emerging with his
first EP on UK techno imprint B12 in 1991.
Carl Craig then signed Kirk's next EP for the emerging Planet E label, giving Kirk the confidence
to start his own label ART. ART soon became a prestigious source of innovative techno, releasing early
seminal works by Aphex Twin, Carl Craig, B12 and The Black Dog.
Kirk's DJ career grew as he became an in-demand artist in the burgeoning European Techno scenes in Holland,
Germany and Belgium. More releases for labels such as R&S, New Electronica, Clear and Likemind
followed before Kirk signed with major label A&M/Universal for their Mo Wax subsidiary, releasing the
classic album "Planetary Folklore".
At home in a diverse array of musical styles, Kirk has produced mainstream rock/pop band The Beauty Room
and even co-written a techno-breaks track with Coldplay's Chris Martin. His vast knowledge of music led to
a regular radio show on London's Kiss FM before moving on to Red Bull Music Academy's online radio station
for the monthly Sound Obsession shows in 2007.
Kirk's Techno sets have rocked dance floors from Tokyo to Glasgow, Sydney to New York, Beijing to Amsterdam.
Teaming up with fellow DJ Ben Sims, Kirk's Machine events are currently the most in-demand upfront Techno
parties worldwide. Focussing solely on new and unreleased music, Machine continues to grow as
Kirk's reputation as one of the worlds foremost digital DJ's reaches a new generation.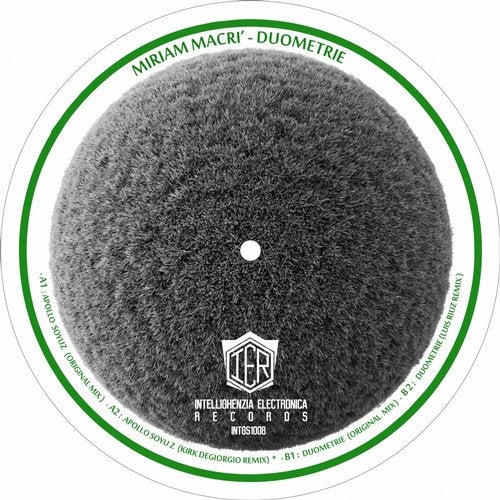 Release
Duometrie
Release Date

2015-06-19

Catalog

INTGS1008