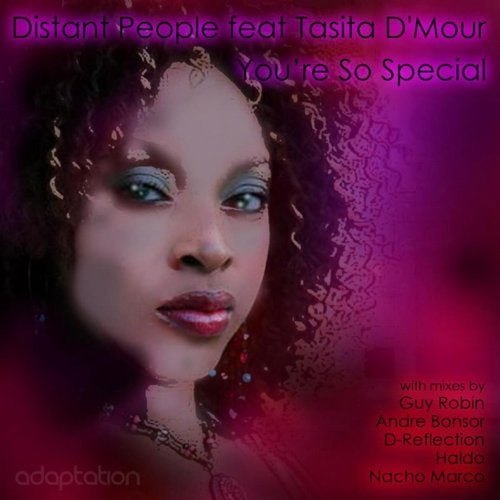 Track written, arranged and produced by Distant People
Vocals written and recorded by Tasita D'Mour

Track 1, 8 & 10 Remix and additional production by Guy Robin
Track 2 Remix and additional production by Andre Bonsor
Track 3 Remix and additional production by D-Reflection. Guitar by Jip Vollema
Track 4 & 6 Remix and additional production by Nacho Marco for Loudeast Productions.
Track 5 Remix and additional production by Haldo

All tracks mastered by Alex Senna

Published by Adaptation Music

(c) 2010 Adaptation Music
(p) 2010 Adaptation Music

Support on radio stations such as Ibiza Global Radio, House Sound Of Hamburg,
MyHouse-YourHouse, Chicago House FM, Push FM, SS Radio, Proton Radio and various
other stations worldwide is backed up by support from some of the top names in the
industry. Here's what they had to say...

MR V (Sole Channel)
"WHAT A FUCKIN' PACKAGE!!! DOPE ALL MIXES!! V."

TONY HUMPHRIES
"Very nice song! Def supporting, fav mixes are Guy Robin and Nacho Marco."

JASK
"Very nice package. :-)"

GRANT NELSON
"Sick package!"

CJ MACKINTOSH
"Still loving the Guy Robin Mix...Some nice new mixes too. Thanks :)"

HALO (City Deep)
"Beats are rocking"

JAMIE THINNES (Seasons Records)
"Nice record guys!!"

KEN ECB (EAST COAST BOOGIEMEN)
"The OG has what I want. Makes me feel like I am in a dark club
getting mine in the early 90's. I hope producers make more of this."

ANDY WARD
"big release full to the brim with great remixes"

ROBERT OWENS
"great track and vocal"

RAOUL BELMANS
(Swirl People / We Play House Recordings / Leuven)
"Nacho Marco mixes doing it for me! Thanks"

SEAN SMITH (Smooth Agent Records)
"Guy Robin & D-Refection are the mixes for me. Another
nice Adaptation release!"

ANDRE HARRIS
"Wow Nice project it was Really hard to pick a mix
but guy robin and the Haldo definitive mixes are for me
in the case.."

TOMMY LARGO
"love the original and nacho marco remix."

JEVNE MILLER (Onethirty Recordings / SS Radio)
"Andre Bonsor mix is nice."

COLIN SALES
"Guy Robins mix is really nice, but for me D-Reflection
just pips it!! AMAZING vocal. In my 'virtual crate' ;)"

GIOM
"The Nacho Marco instrumental is the one for me. Thanks guys"

MANNIX
"all mixes are mega, love it!"

DJ POPE
"Original and Guy Robin mix does it for me"

DERON DELGADO (Stompy)
"Nice package fellas!"

GRAHAM SAHARA
(Pacha Ibiza, Ibiza Global Radio)
"distant people dub for me here thanks"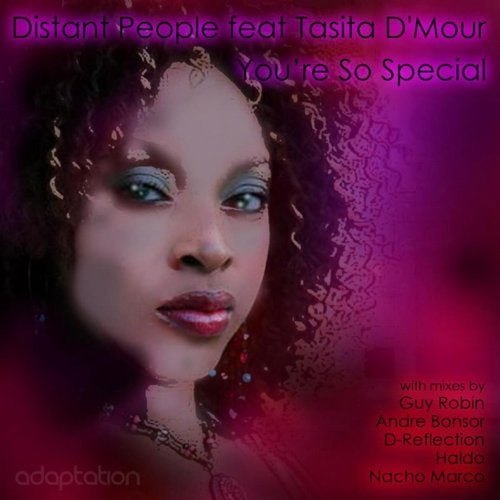 Release
You're So Special