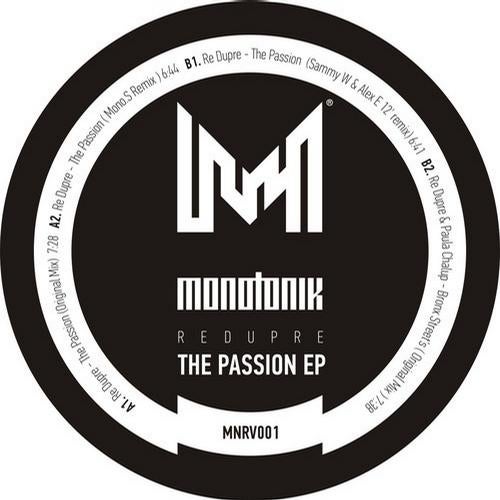 Ukraine is again showing that the place has always been and stays rich for good music and its hi-quality presenting on the international electronic market. Monotonik Records is the exciting and promising project headed by DJ Kon', aimed for uniting of talented artists of Post-Soviet countries with label representatives around the globe, is happy to present the debut release of a label.
'Passion EP' is performed by very bright name on electronic world, acknowledged by Andre Crom and OFF Recordings release; the artist having tight touring schedule in Brazil and far around of it; known for his absolute and versatile style - its Re Dupre.
A1 has the heading 'Passion' track pierced with minor pads, generic pitched down vocals and raw deep vibe, hypnotic thing worth playing on the sunset.
First remix completing A-side is by the head of the label - version by Mono.S project which is rich with electrified synths and nu-disco shade is definitely a heavy thing to spin.
B-side is showing absolutely different shape of release.
Dark side of the original is entirely told on B1 by fast-growing and high-rising duo from Romania who has received remix works for their music from NTFO, has collaborations with Sharam Jey and Rhadow to name a few and shows their unique sound in every production they create. Sammy W & Alex E's 'Passion' is dark but playable as hell.
B2 with 'Bronx Street' track, whereas Re Dupre has combined powers to do this one, finishes a package. Deep and atmospheric, groove and dance, underground and soft - that's how to describe this one.
Keep any eye on Monotonik releases, that's just a start!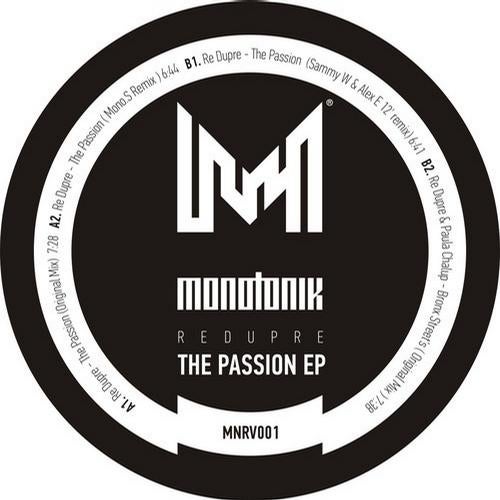 Release
The Passion