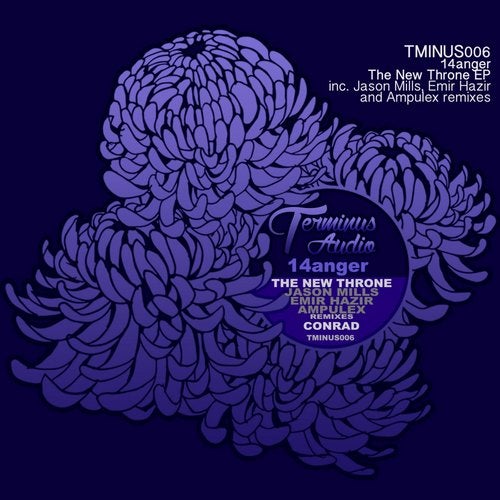 Hailing from Béziers, France, DJ/Producer and owner of Club Poison Records; 14anger considers himself a "time traveler, collector of Techno classics and admirer of futuristic sequencing". This is a very apt description, as 14anger's sound reflects years of influences that range from Industrial to Hardcore Techno all compiled into an efficient, visceral production style. Having found his way into the rotations of discerning tastemakers such as Perc and Dave Clarke (who recently gave a 14anger tack a spin at Awakenings) and sought out by label owner Jason Mills, two of his recent creations have now found a home on US-based Terminus Audio, accompanied by three solid remixes to complete a varied package.
- 1: "The New Throne (Original Mix)" is a gritty, no-frills, Industrial stomper. A powerful reverberated kick drum propels the arrangement, accompanied by simple yet effective hats and percussion. A dissonant, arpeggiated synth snakes through a grinding, overdriven lead; forming the basis of the track. Atmosphere is key here. A choice track for fans of stripped down, forward-thinking Industrial Techno.
- 2: Next is Terminus Audio label boss Jason Mills on remix duties with his immense, ambitious take on "The New Throne". The result is an full-fledged Hard Techno weapon consisting of crisp 909 claps, slamming kicks, aggressive snares, large looming synths, a driving bass line and a devastating drop all dialed in to ensure madness for crowds who like it a bit harder.
- 3: Turkey's own (and Terminus artist) Emir Hazir has been causing a stir with his consistent, quality production output for some time now, and his take on "The New Throne" is no exception. With a sleeker, sharper approach to his remix - Hazir's version is fueled by a dark, grooving bass line and a punchy kick that brings to mind shades of slick Psytrance as the track moves ahead at a quick pace with dense percussion and sweeping effects. A great transitional record or to pick up things up.
- 4: The mysterious AMPULEX returns on this EP with an unconventional remix. The main components of the original are fused into a mischievous and ominous arrangement, a mad science experiment with a bouncy kick, interesting edits and an overall sound that brings to mind Old Skool UK Breakbeat Hardcore/Rave.
- 5: Finally, and last but not least - We have the 14anger original "Conrad". This track is very straightforward and more of a seeming nod to industrial electronic groups such as Front 242 and even aggrotech than it is a traditional techno piece. "Conrad" features a prominent, pounding kick drum, with sparse and effective cymbal runs and claps that work alongside seesawing stabs and effects to create a primal, irresistible groove.
There you have it. TMINUS006 - 14anger - The New Throne EP. Another fresh, formidable Techno package from Terminus. We thank 14anger and look forward to future releases with Terminus Audio. Where on the globe will we wind up next?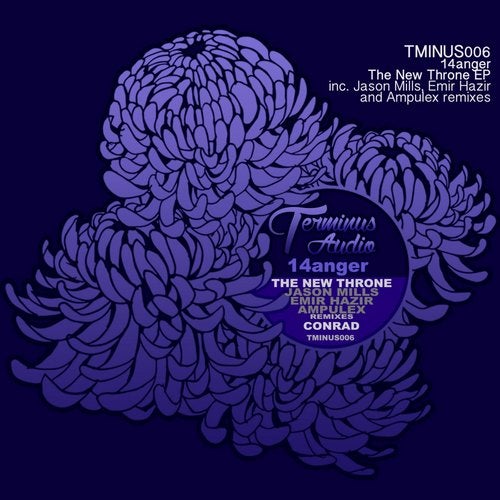 Release
The New Throne EP