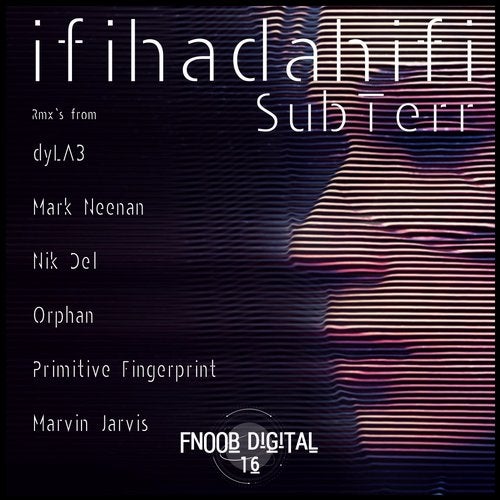 FNOOB DiGiTAL presents SubTerr, a new techno release with just a taste of electro atmosphere from ifihadahifi, an old veteran of the London squat party scene currently living in northeast England. This laid-back, 125 BPM track begins with a burst of echoey acid and chirpy Kraftwerk snare, proceeding forward with judicious use of sine bass kick and many layers of rhythmic chord hits to build into a subtle groove reminiscent of releases by Nina Kraviz or later Adam Beyer.
This release comes with six remixes, starting with dyLAB's straight-ahead 4/4 take on the original, followed by a dubby, stripped down mix from Marvin Jarvis. Nick Del's mix takes the subtraction to a further extreme with a remix that starts with a deep, noisy solo kick, blossoming into arpeggiated bliss. Primitive Fingerprint brings forth another dubby mix with filter sweeps and a synth drone punctured by compressor keyed to a tight, snappy kick. Orphan renders a dark, echoey mix barely hinting at the original. Mark Neenan wraps up the release with a heavy pounding, ring modded, 137 BPM peak hour offering.

Your purchase of this release helps to fund Fnoob Techno Radio, the London based audio webstream featuring the finest of the techno underground from all over the world at http://fnoobtechno.com.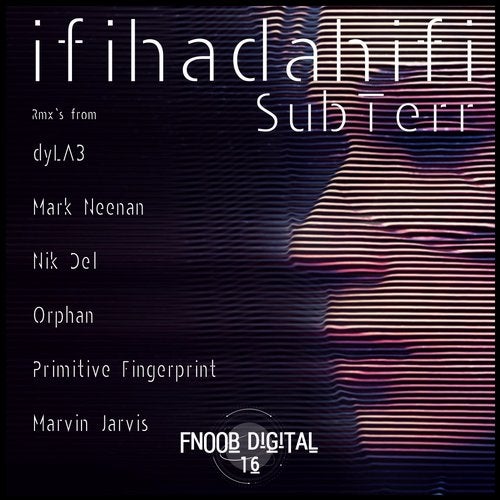 Release
SubTerr