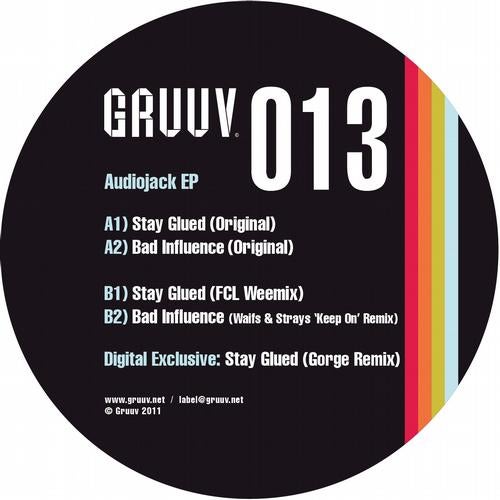 Release Date

2012-02-06

Label

Gruuv

Catalog

GRU013
Our first release of 2012 is arguably our biggest ever - showcasing two of our Audiojack productions alongside fantastic remixes from FCL, Waifs & Strays and Gorge.

Following great support for our Like This collaboration on Leftroom were pleased to welcome our good friend Kevin Knapp for guest vocals on Stay Glued. The hypnotic hook and smooth tones keep you locked into the groove, backed up by a loopy 90's style bass line and some wormhole synth stabs.

Bad Influence is a marriage of funk and deep house, with a bubbling synth bass line, warm chords and a repetitive vocal lick to bring it together. Supporters of our recent 2020 Vision EP might find favour in these flavours.

Weve been addicted to FCL since we first heard their track Lets Go Seven last year. Their music has been instrumental in our luring to deeper sounds and were delighted the Belgians took time out from producing their upcoming album to turn in this vintage FCL remix.

The new wave of talent coming out of Bristol is well documented and the duo of Waifs & Strays have been at the forefront, since being catapulted onto the big stage this year with innovative productions on labels like Leftroom, Hot Creations and Futureboogie. This remix is exactly what youd want and expect from these guys, with nagging deep stabs and a killer bass line its one of those tracks you can drop anytime.

Finally, with a digitally exclusive cut, 8Bit and Katchuli label boss Gorge turns in his interpretation of Stay Glued - a subtly epic deep house groover that gently builds and builds with warm pads and a heavy bottom end. Top drawer.

Rich & Jamie / Audiojack / Gruuv x

Feedback and Support from

And.id, Anja Schneider, Audiofly, Burnski, Butch, Carlo Lio, Catz n Dogz, Danny Tenaglia, Deetron, Djuma Soundsystem, Edu Imbernon, Ekkohaus, Fred Everything, Gregor Tresher, H.O.S.H, Hermanez, Homework, Hugo, Huxley, Inland Knights, Iron Curtis, J Phlip, James Zabiela, Jimpster, Joris Voorn, Julien Chaptal, Kaiserdisco, Karotte, Kiki, Kruse & Nuernberg, Laura Jones, Laurent Garnier, Lazaro Casanova, Lee Curtiss, Luca Bacchetti, Luna City Express, M.A.N.D.Y, Martin Landsky, Moodymanc, Nic Fanciulli, Noir, Ramon Tapia, Reboot, Riva Starr, Rodriguez Jr, Ryan Crosson, Seth Troxler, Shur-i-kan, Slam, Solomun, Stacey Pullen, Steve Lawler, Thomas Schumacher, Tiger Stripes, Tim Green, Wehbba, Will Saul, Xpress-2 & more!

Jimpster (Freerange)
Brilliant pack of music here! originals are strong but the remixes are bang on, especially the FCL and Gorge versions. all great though so will be trying out a few of these. nice one.

H.O.S.H (Diynamic)
f*ck *ff!!! only great tracks from some of my favourite artists. What to say. thanx a TON!

Laurent Garnier
Love the booty Chicago mix by FCL - will play for sure

Anja Schneider (Mobilee)
Like always quality from Audiojack. Groovy and sexy!

Joris Voorn (Rejected)
Gorge does the job!!

Noir (Noir)
F*cking awesome release. I cant pick my fave on 1st listen - but will 120%% support this release :)

J Phlip (Dirtybird)
impossible to pick a favorite here! all of these are so dope!!!! killer record guys!

Catz n Dogz (Dirtybird / Pets)
thats a great release guys thanks !!!

Will Saul (Simple Records)
FCL mix is superb.....

Laura Jones (Leftroom)
Really solid release. Waifs & Strays & FCL weemix are the ones for me. Cheers :)

Tim Green (Cocoon / Get Physical)
W+S mix great!!! FCL Weemix fun too!

Karotte (Cocoon)
Stay Glued is a bomb. Love it. FCL remix is a goodie to. Nice oldschool groovemonster.

Rocky (Xpress-2)
Excellent stuff! FCL and Gorge are my faves.

Luca Bacchetti (Hideout / Crosstown Rebels)
Nice release! You have my support.

Dubble D / Moodymanc
fffffffffffffffffffat as fffffffffffffffuck!

Homework (Exploited / Made To Play)
Damn, groovy bassline madness on the originals. Nice remixes as well, especially W&S. FCL always on form, showing us Detroit is alive and kicking.

Deetron (Rejected)
Insane FCL remix!

Julien Chaptal (Remote Area)
Wow, this FLC mix!!!! I'm going to play this a lot. Nice release.

Djuma Soundsystem (Get Physical)
Ace release! ST org, Waifs & Strays and Gorge remix goes straight into my sets!

Wehbba (100%% Pure)
Audiojack always spot on. Love both originals, the remixes are almost as good as well, fat EP

And.id (Mobilee)
HUGE record, HUGE bass lines! Hard to pick a favourite!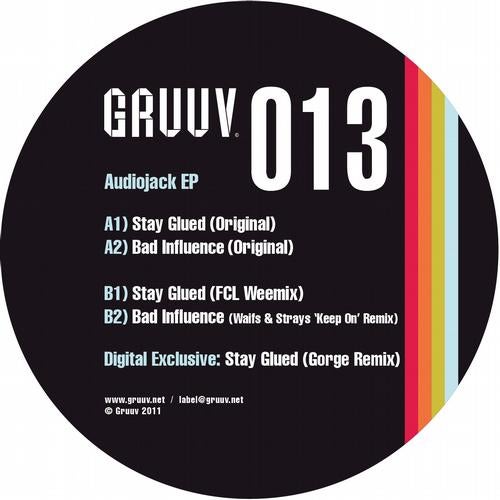 Release
Stay Glued EP
Release Date

2012-02-06

Label

Gruuv

Catalog

GRU013