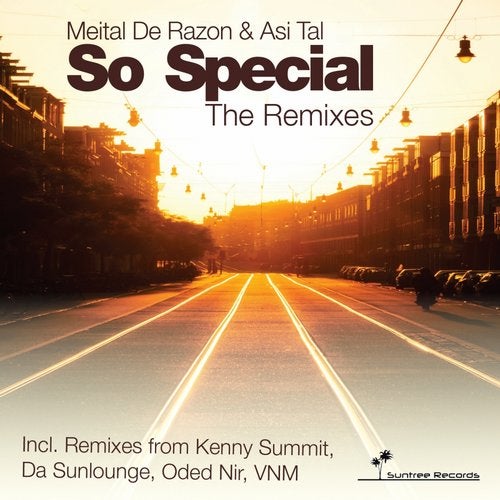 Last October (2013) Suntree Records saw the single-release of Asi Tal & Meital de Razons So Special, and now we are back again with several remixes that were brewed over the last several months. This time, we have four splendid remixes on Asi Tal & Meital de Razons So Special. An early Spring-feeling is made possible by listening to the remixes by Da Sunlounge (UK), Kenny Summit (USA), VNM (IL), and our own Oded Nir. Check the different house-flavors we got for you here, and please let us know how they taste for you!

Asi Tal & Meital de Razon So Special (Da Sunlounge Mix)

Based in the Midlands UK, Da Sunlounge have been releasing the past 15 years on quality house labels such as 2020 vision, OM Records, Salted Music, Defected. With his own labels Myna Music and Bambino Recordings, Da Sunlounge is standing firmly on house music territories. His remix on So Special gives you a great impression on his production abilities. Its has that recognizable Da Sunlounge bump in the 4x4 drums, with subtle use of the vocals. The driving bass grasps us and makes us put his So Special remix on repeat. all day long!

Asi Tal & Meital de Razon So Special (Kenny Summit Remix)

Kenny Summit (New York, USA) has been a DJ for over two decades, playing alongside DJ heroes as Jazzy Jeff, Frankie Knuckles, and David Morales. Besides putting love in his own label Good For Your Records, we find his music on labels as Ultra Records, and a full-length album on Mile End records. Kennys remix on So Special captures the essence of house music in all aspects: a slamming (New York) house beat-design accompanied by contagious chords, strings and stabs. Its so hard to keep us seated when hearing Kenny Summits remix, and we truly hope you share the same experience as well!

Asi Tal & Meital de Razon So Special (VNM Remix)

Debuting on Suntree Records is VNM (IL), a duo who brings fresh, sexy house sounds to the dance floor. Two lovely girls who are absolutely passionate about house music. VNM has wrapped So Special in a cocoon of deep stabs, swirling fx and a punchy bass-line. The break is spacious, with hypnotic strings and uplifting arrangements of fx and drums. The drop then hammers down, as we can imagine it will be mind-blowing on a club system!

Asi Tal & Meital de Razon So Special (Oded Nir Remix)

Oded has enforced his definition on lounge house, by injecting his So Special with soft sounds and round melodies. And we have to mention the fantastic live bass-guitar, which carries his remix beautifully from start to the end. Its truly textbook example of bass playing. That is one of the reasons why Oded Nir stays on top of his game, by implementing live instruments in music production and beyond!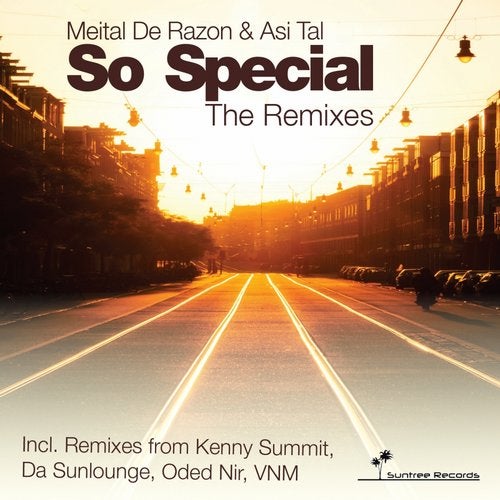 Release
So Special The Remixes