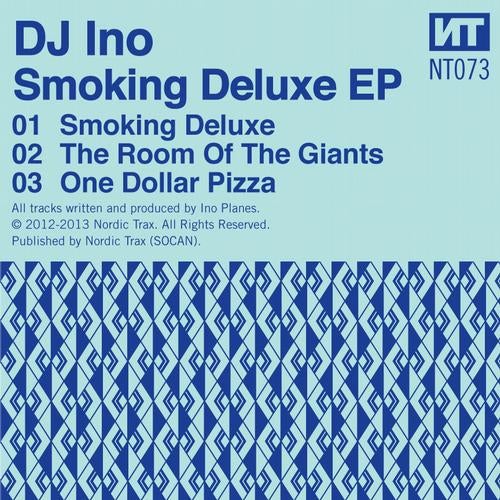 Release Date

2013-02-19

Label

Nordic Trax

Catalog

NT073
From the Northwest of Spain Galician House hero DJ Ino brings us three tracks of deep goodness with the velvet-covered Smoking Deluxe EP.

DJ Ino has been pushing his deep sound to the world since the mid 1990s. Always a friend to Nordic Trax, this debut EP for us shows him flexing his considerable muscle in the slower tempo regions. From the catchy Nu Disco vibes of the title track, to the dub elements on the chilled-out ne Dollar Pizza Ino sound reflects his years of experience as a producer & deejay.

Based in La Coru, DJ Ino has releases on Dennis Ferrer mighty Objektivity label, Seasons Recordings, CafDel Mar, Justified Cause, Release Music and his own label House CafMusic. His discography includes a healthy collection of genres mainly house, but also jazz, disco, and even a full-length hip-hop album all with a sound that is unmistakably his own.

Since his early days as a deejay, Ino has contributed a great deal to the Spanish electronic scene. Having played at some of the most important music festivals in Spain including Sonar and Monegros Desert Festival alongside such iconic clubs as Space (Ibiza), Cocoon (Frankfurt), Propaganda (Moscow) and Cielo (NY), Ino has been a proud ambassador of underground Spanish electronic music. With efforts spanning several albums, collaborations and the launch of his own label, Ino has put his hometown of La Coru on the map. An impressive roster of artists have also appeared on his label, including Charles Webster, Vincenzo, Motorcitysoul, Nickodemus and of course Ino himself.

::::::::::::::::::::::::::::::::::::::::::

Upfront dj support: Andy Riley / Inland Knights, Cosmo Baker, Giom, Greg Fenton, Halo Varga, Jay West, Johnny Fiasco, Junior Brown, Kirby, Luis Machuca, Mark Farina, Matt Caine, Murray Richardson, Nicc Johnson, Nick Holder, Peter Christianson, Ray C, Richie Hartness, Romano Arcaini, Ron Paris, Steve Lui, Tom Golden, Trevor Walker

Giom: The disco side of Nordic Trax! Love it
Jay West: Really funky, lovin this one guys
Nick Holder: Dopeness! 10/10
Mark Farina: Nice deep groover! that's some good pizza too! 9/10
Halo Varga: Full support
Johnny Fiasco: Deep Chuggin' Synthy Bliss!
Tom Golden: Smoking Deluxe is ace, really nice build up.
Sandro Bianchi: Ino strikes back! 10/10
Jeannie Hopper: Love all the mixes. One Dollar Pizza is very Deep Space vibe. Deepness.
Nutritious: Class! 10/10
Peter Christianson / LawnChair Generals: Deep and smooth, love me a cheap Pizza!
Kirby: Nice new EP, something for everyone ! Smoking Deluxe is a cool track, nice & catchy vibe ! The room of the giants & one dollar pizza are 2 cool pieces of deep house ! Thanks :) & Happy new year to the NT fam' ;)
Eddie B: Loving the midtempo goodness! DJ Ino with a really great release all around. Loving Room Of The Giants and One Dollar Pizza. Will test on the dance floor this weekend!
Murray Richardson: nice to hear Ino on NT...love the EP, like all the trax here. 10/10
DJ Krown: Great mix of tracks. One Dollar Pizza is a solid deep groove, while Smoking Deluxe's acid grabs a hold of your head and doesn't let go. Solid.
Andy Riley / Inland Knights: Great 8/10
Darran Nugent: Smoking Deluxe is a big bass heavy bomb.
Mahogany Speed: NT continues to move the needle and set the standard for proper house music! Feeling this collective of "chunes'! Thanks for sending!
Trevor Walker: Cool ep. I'm feeling the slow drag of "Smoking Deluxe" and "Room Of The Giants", especially. Thank you!
Luis Machuca: Full support... Smoking deluxe is going to be the track to PLay!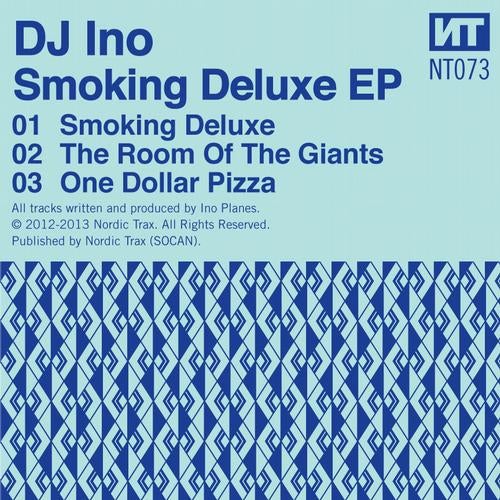 Release
Smoking Deluxe EP
Release Date

2013-02-19

Label

Nordic Trax

Catalog

NT073