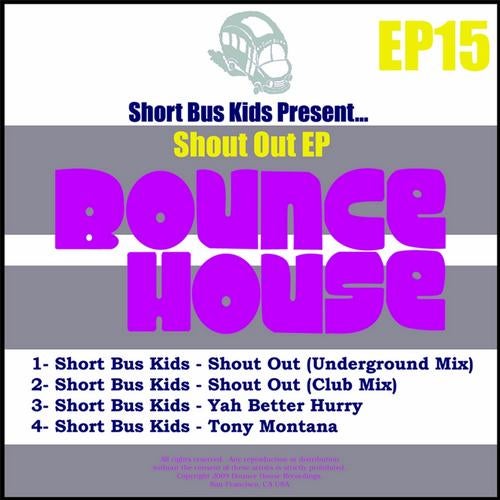 Short Bus Kids: DK Watts and Lance Leber are the San Francisco and now Amsterdam-based production duo called the Short Bus Kids. In a city like San Francisco that's deep-rooted in dance music culture, the Short Bus Kids have done their very best to ensure those roots are there to stay. In the studio, the duo strives for tracks loaded with 'lots of funk, soul and a little something extra. In 2007 German mega-dance label Soulstar Records signed one of their tracks for 'Addicted to House Volume 6.' With 50+ releases to their credit, expect each EP released on their Bounce House Recordings Label to reach across all styles of dance music.
Shout Out EP / BH EP 15

1: Shout Out (Underground mix) - Short Bus Kids
The Underground mix, is just what you'd expect... a deep-house shaker for the not-so-mainstream headz. Catchy raga vocals, layered synths and a heavy bass line should have floors shaking worldwide.

2: Shout Out (Club mix) - Short Bus Kids
A main hour house mix for the more mainstream club-goers. A definite big-room feel that is edgy, but with enough vocals to be catchy.

3: Yah Better Hury - Short Bus Kids
A funky breaks track for the non 4x4 DJs and the people who like to get down on the dance floor. The hip hop vocal and the layered bass lines make this a perfect party jam.

4: Tony Montana - Short Bus Kids
A solid deep, funky house track. The vocal is classic (guess who?) Just an overall fun track to rock.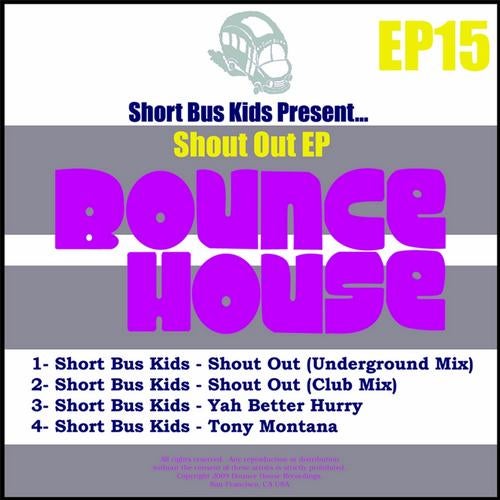 Release
Shout Out EP