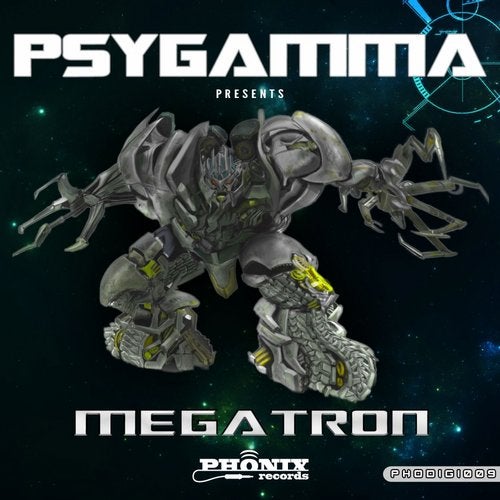 Notorious across the cosmos for his beat hacking, space diving and dancefloor demolition skills, Israeli scientist – Psygamma (Omri Fabish) – decided it was time to fuse his brand of cutting edge sonic mayhem with weaponized soundwaves to create the ultimate secret weapon of neurological destruction. Hearing of his plans, the Phonix Records labs were faced with a moral dilemma - to release upon the unsuspecting solar system this super powered monster or... not? In the end, the choice was clear, the twisted minds had won! Phonix Records is proud to present Psygamma's debut solo EP - 'Megatron'.

We are immediately engaged by sounds, familiar, yet alien, a tremendous 'Space Battle' ensuing; Psygamma's epic retelling of fellow beat hacking mad man – Inzimo's sci-fi inspired tale. With phasers set to kill, the unsuspecting listener is immediately induced with our scientists' sonic beams. Barely having recovered from the initial shocks of experiencing space warfare, the weaponized waves induce the numbness of 'Blue Brain', the physiological condition brought about naturally by the cold void of outer space. Symptoms include shivers, perspiration, a ghoulish attitude and the need to pound one's feet on the floor. The last and most significant chapter of this saga is the epitome of Psygamma's true intention - to take over this galaxy through his secret weapon - 'Megatron'! Sinister melodies accompanied by uncontrollable energy will help release enough endorphins to scramble what is left of your fragile mind.

With this EP, Phonix Records continues to push forward only the very best in twilight psytrance. And on that note, let us unleash upon this reality the twisted arms of Psygamma's super weapon - 'Megatron', roll out!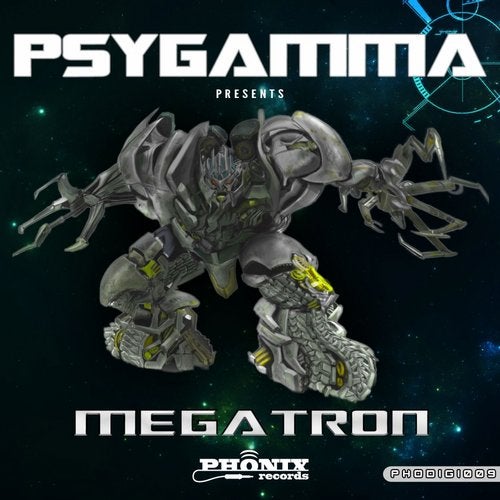 Release
Megatron