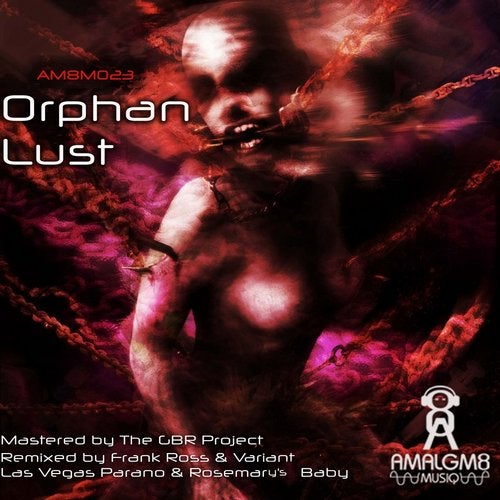 For our 23rd release we welcome another Costa Rican resident to the ever evolving Amalgm8 Musiq family. AM8M023 is reserved for Ivan Gafer, under his Orphan guise, and he brings us an immense debut in the shape of his Orphan - Lust LP.
Ivan has already done several outstanding remix works for us at Amalgm8 and when he sent his 3 originals for Lust,over we were extremely excited to give Ivan a full ep release under this wicked Orphan alter ego.
All 3 tracks offer up a slice of pure underground that will work any proper dance floor to the next level, enhancing the vibe and elevating the intensity of the room!!!
We begin with the title track Lust which starts off with a bit crush and heavilly verbed percussive line and resonating pads. Both of these elements creating a deep druggy vibe and as the deranged vocals whisper their way in and out of the track and the shimmering hats elevate the vibe you know you have been consumed by the hypnotic groove already. Then just when you weren't expecting it the perc peels away to reveal haunting wailing female operatic vox that pair in such an awesome way with the incessant padlines and verbed synths, together adding something special and a little different for 30 seconds while hordes of heavy breathing clubbers get their breaths back , before the beat and drive are back and propel you into the outro.
Track 2 Wet, comes out the gates guns blazing, those guns being futuristic sonic resonators with a kick that slaps in the midst of all that relentless groove and thick atmospherics, it slaps wetly but is still somehow tight and restrained. just one of the elements that made us stand up and take notice of Orphan. So many intelligent percussive nuances keep the groove interesting as it develops with warped and twisted fx and synths colouring the mix and those cool sci fi synth stabs becoming more prolific in the mix into the mini break where the pads wash in and out with the drones before its ' Full Steam Ahead ' again. this one is a melter for sure.
Track 3, Epic, like the title suggests is a little bit large. A massive kick and warping drone synth conjur images of cyber cops in enhanced biomech suits marching and stomping to the beat, setting the tone nicely for this beast. A relentless dark low pitched male vocal enters the track and rises in thickness and output as things progress , keeping the mood of 'Epic' and this ep as a whole, one of pure dark hypnotic head down energy and intensity.
This release also comes armed with an array of deadly remixes, weighing in with 5 different takes on the originals from 4 carefully selected remixers we begin with Panama resident Las Vegas Parano's take on ' Wet. It kicks off bang on concept with heavilly processed synth and perc lines before a synthline of epic neuro melting proportions arrives, mutating and developing as the track progresses. Paired with wild driving percussion and a smattering of proper Las Vegas Parano style rinsing drones and fx in the later end of the track this version hits hard and perfectly compliments the original. Up next we introduce German native Ralf Mohr, aka Rosemary's Baby to the Amalgm8 Musiq family and he delivers a superb deep, dark and dirty rendition of 'Lust ' for us. It all starts off with an excellent intro consisting cool fx and nice use of the main operatic female vox, gradually introducing the bit crushed percussive lines that take us into the main kick and sub drive of the track. Not as hard as LVP's remix this one has a dark brooding vibe with cool unsettling whispered vox working their way in and out of the mix and under your skin ,plus a handful of glitched out fx and extra melting synth action. The mini break gives you a quick breather with more glitch fx and a quick hit of that wicked operatic vox again before we resume the hypnotic groove.
Making another very welcome appearance for the next remix is Frank Ross and his rework ing of ' Epic'. Frank pulls no punches right out the gates with a strong kick / sub pairing and twisted synthline that tease a slow perc build into the first mini break and beyond. We move strongly and build into the main break which is full on neuro hypnosis with the dark vocal , also processed and filtered fx that keep you lost in a sonic mayhem until the kick comes back and we resume the action.For remix number 4 Las Vegas Parano returns for the 2nd of his 2 remixes, this time serving up his own twisted frenetic take on ' Lust'. Solid percussion sets the pace as cool twisted glitch fx colour the mix and all manner of sci fi sounds, off kilter pads and then layer upon layer of wild twisted hypnotic synthlines move us forward into the break where your brain really will pour out of your ears, i wont spoil the surprise but this is one real trip of a remix. We close things out with Amalgm8 Musiq boss Variant's banging and twisted take on ' Epic' . Jim wanted to turn in a truly Epic remix to reflect the original so he paid particular attention to constantly evolving synthesisers and percussive nuances to keep this beast moving forward in the EPic manner the title suggests.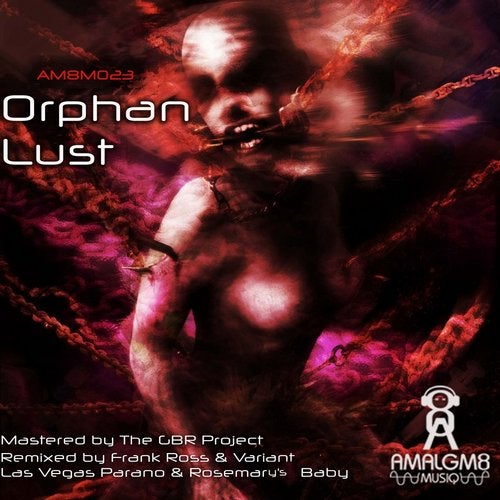 Release
Lust