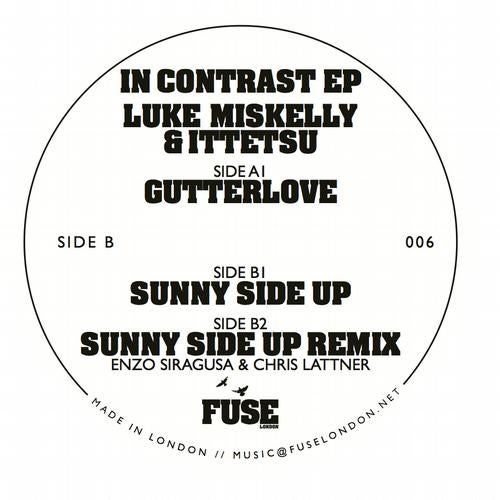 Release Date

2012-11-12

Label

Fuse London

Catalog

FUSE006
Mark FanciulliSaved / Ovum / RejectedNice deep vibes on this package, will definitely play this weekend. Thanks for the music!

Benjamin Rau Fuse Good work from Luke and Ittetsu like the whole package

Nic Fanciulli n

David Labeij100%% Puresuppeerrrfat ep!! thanxx!

Terry Francis Fabri cnice

Nick DareLost My DogChris Lattner & Enzo Siragusa Remix is the one for me. Great production, love the raw stripped down vibe and dark side vox!! Thanks for sending

Nils Nürnberg8-Bit / Dynamic / BloopAll mixes are great. THX
Matthew BenjaminLayo & Bushwacka!support

Kate SimkoSpectral Sound Love the teasing bass in the Lattner and Siragusa remix.. in the bag for tonight!

Andrew Grant Circo LocoLattner & Enzo go deeeeep nice one
Markus LiefkeAfriloungeFULL SUPPORT!

Seb ZitoFuse (London)Amazing EP, been supporting this one for well over as year now :)

Helmut DubnitzkyDubnitzky, Cecille, Micro.Fonthe chris lattner remix is for me cool stuff

Carsten SchuchmannMeat (Get Physical / Freebase)Like all 3 tracks!! Well done!

Andre RozzoPeter Dildogood to hear a label that keeps the restrained sound alive

Tim GreenTGgutterlove is the one for me!

Monika Kruse .gutterlove is the one for me. :-)

Norman WebberLuna City Express, Hudd Traxx, Fresh Meatnice release" chris & enzos remix is my fav here* thanks;-)

Mihai PopoviciuHighgrade, Fear Of Flying, Hudd Traxxwill play and support! cool stuff!

Kev O'Brien(Stranjjur/ Fresh Meat / Save Room)I thank for good lord that Mr Lattner didn't stop making music each and every time I hear something new from him.

Richard RotfussLiapin / AfriloungeGreat EP, Full Support!

Alex ArnoutDogmatikAll good tracks on this EP, Gutterlove edges it for me tho, love the bass in there :)

Marco ResmannLuna City ExpressGutterlove!

Nikko GiblerLeftroom / CulpritGreat EP overall... Really nice stuff!

Paul BowenDoblar / Luna RecordsAbsolutely quality all tracks.
Real fuse feel about the music too proper good music will play everything x Good vibesssssss

Lauhaus LantingPolder / Intactoenzo & chris do it for me. thanx.

Fabio GianelliFabio Gianelli, Adult Only, SupernatureChris & Enzo remix for me. thx

Martin LandskyPoker Flatnice ep...the remix is my favourite here but i like all versions...

Audiofly Supernature / Get PhysicalGutterlovelove it
Eric BorgoTsubalike very much the Chris Lattner & Enzo Siragusa Remix will play

Stef Lakosa (Madtech)Chris & Enzo remix is tight, but feeling the whole EP.. Thanks

Clive HenryPeace Division / Circo Loco / NRKcool three trax..

Terence .(:terry:) Freak N ChicAN OTHER GREAT RELEASE FROM THE LONDON FAMILY ,SUPPORTTT REALLY INTO THE RMX..

Claire RipleyDessous / PhobicVery nice e.p, really like all tracks

Michael DoddmanHuxley (Ethyl & Huxley)gutterlove is dope.

John DimasBass Culture / One RecordsNice Ep Chris & Enzo's rmx is my pick , thanx !

David DurangoDavid Durango, Poker Flat, Suara, Galaktikamy fav is sunnyside up original but the ep are great!!! thank you
Boris HottonGutterlove for me. nice.

Tim RedSuperfreqnice tracky tracks - cheers

Florian KruseNRK/Hynotone/Variouslattner and enzo for me! groove all over the place!

Alex KaddourvariousOriginals are Dope!! Will play them! Thanks for the music!

Jonny CadeLeftroom/Black Key/Tenth Circlecool tech vibes. nice!

Daniel SanchezRemote Area / Bla Blalatnner remix! what a bomb
Mosca Yhyh Gutterlove has got that vibe

Daniel FaulwasserDan Drastic / Moon HarbourGreat rimis by Chris & Enzo.

Manuel de LorenziDirty Boots, (Immigrant, 8bit)wow. fuse never makes mistakes. love the whole pack and i'll play it loud :)
Halo VargaAll the tracks on here are amazing hard to choose a favorite..full support

Nathan BaratoRoots & WingsAll three cuts are great Thanks :)

Moises M.A.M.District Raw, Overall, LowpitchAwesome package!!
Gutterlove and Chris and Enzo remix for me...Will play a lot.. Thanks!

Chris GruberGruber & Nurnberg (8-Bit,The Remix is my fav... love the groove of Lattner & Siragusa! But the whole EP is awesome! Will support and play for sure! thanks...

Brendon CollinsSummer (Tulipa Recordings)Great remix, will support.
Georgia GirlAct NaturalOoh LOVE thisssss! All three tracks have a lil something special. Interesting percussion, rawness with plenty peaks and troughs to keep you on your toes. BIG real BIG! Ta v much x

Tini DesolatThanks ! Full support !!!

Onno Upon You/Get PhysicalBig fan of the label, love pretty much all the put out and this is no exception! gutter love and the remix of sunny side are sweet as sugar!

Jorge SavorettiEsperanzaclassy beats! i like it

Hanfry Martinezchris lattner & enzo Siragusa remix for me !!!!!!!

brutal Bass!!! full support Thanks !comHorvat'.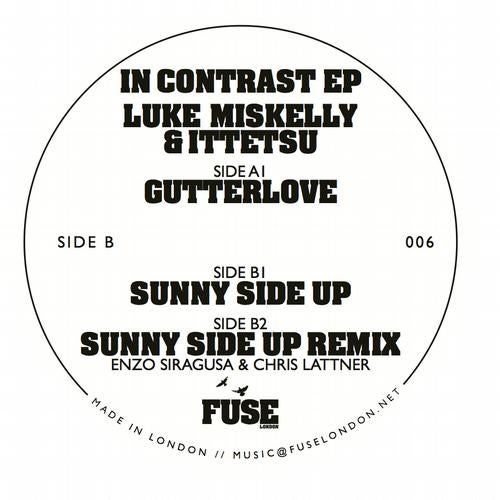 Release
In Contrast EP
Release Date

2012-11-12

Label

Fuse London

Catalog

FUSE006