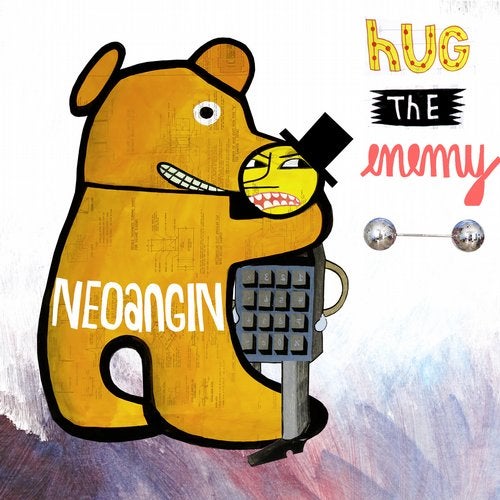 Release Date

2014-11-03

Label

Neoangin

Catalog

NEO08
Jim Avignon has reaped international success as a painter, illustrator, concept and performance artist for more than 20 years, and for the past 10+ years he has also been moonlighting as his musical alter ego "Neoangin". His paintings are a mash-up of cartoonish characters, expressionist composition and in your face titles and so is his music: DIY charm at its best, strange songs with even stranger titles, a voice that - in softer moments - sounds like Robert Wyatt meets Hot Chip, arrangements that are infused with a highly contagious melancholic glee.

It has been four years since Jim's last album, aside from one he released in New York with his second band Anxieteam. Four years during which Avigon became a parent, left New York (albeit not quite voluntarily), had a retrospective, toured through Central America with the Goethe-Institut for seven weeks, illegally replaced his old piece of the East Side Gallery with a new one (which almost landed him in jail), published several books and made regular appearances in clubs and on stages.

So here we have "hug the enemy": the songs on this album originated on the road over the past four years: on tour, in hotel rooms, on the train. The more personal songs such as "Bad Fotoshop" and "Unfollow the Leader" are a telltale of one or the other crisis, the more political songs have a bellicose undertone: "Unpaid Work" is a rant about unpaid internships, "Unreal Estate" taunts investors and "Party for 1" bids farewell to social networks. And then there are the weird songs about dust, cardboard boxes and foreign correspondent lost in a conflict zone. Avignon took his time for the lyrics and arrangements and it shows - the songs are more contemplative - less bubble more depth.

The album is released as a CD wallet that includes a 24-page booklet. For all those who have already disposed of their CD player there will be a special version on a credit card shaped USB stick (also comes with the CD wallet and the booklet). The USB stick can easily be used for other things and is a collectors' item for the wallet. It is also a hint to the industry to be a little bit more experimental with new formats.

Just in time for the mini tour in November there will also be a limited edition 7 inch (with a Kraftwerk meets Kiss sleeve) including the songs "Bad Fotoshop" and "Unpaid Work" as well as two previously unreleased songs.

Available on Youtube is a fantastic video to "Bad Fotoshop", in which Avignon's 30 favorite record covers from the 1960s and 1970s are animated in the style of Monty Python. ARTE liked it so much that they included it in their media library.