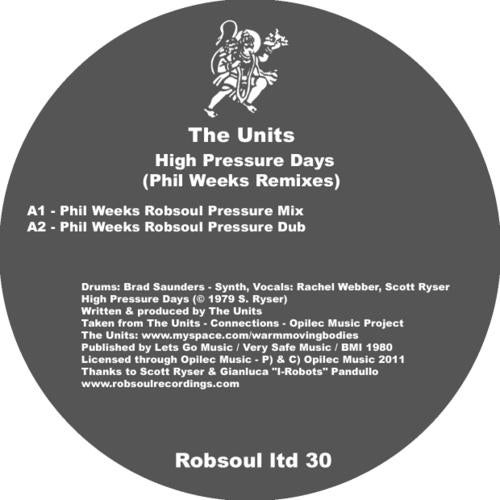 Phil Weeks delivers four house remixes of bands from outside the genre on his latest EP for Robsoul Ltd. Infamous San Francisco punk band Units and three-piece Italian outfit Motel Connection both get the label boss typically driving and tracky treatment, turning them into dancefloor bombs. The record will be released as a limited edition vinyl pressing in early May.

San Francisco punk band Units self-released High Pressure Days in 1979 as a 7 vinyl, before also including it on the lead track of their 1980 LP Digital Stimulation. They were highly successful between 1979 and 1983, signing to Epic/CBS, before breaking up and moving away from San Francisco. In 2009 a compilation A History of the Units was released and in the same year Relish Recordings also released new electronic mixes of the iconic High Pressure Days.

Motel Connection is the trio of Pierpaolo Perretti Griva, Samuel Romano & Francesco Pistoi from Turin, Italy. Formed in 2000, they are an electronic band in the vein of 2020 Soundsystem and Crazy P and have released five albums to date, including two soundtracks. H.E.R.O.I.N. is the title track from their 2010 album.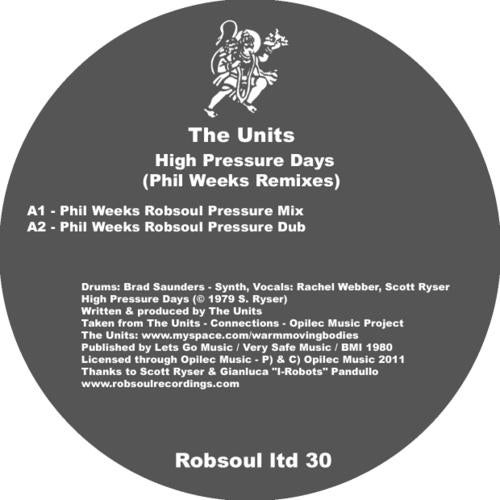 Release
High Pressure Days (Remixes)