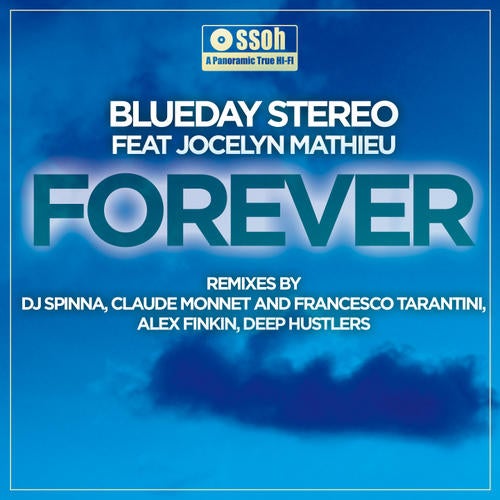 Release Date

2011-07-14

Label

SSOH Music

Catalog

SSOH48
It's another smooth yet explosive release for Claude Monnet's SSOH imprint, this time in the shape of Blueday Stereo's lush extravaganza Forever. The French/Belgian duo, comprising Dagui Rodann and Timothy Milton, last graced SSOH with Eternal Love. Now they return, fully exploiting the sultry vocals of Jocelyn Mathieu to provide a devastating slice of dreamy soulful house that at times is deliciously reminiscent of that classic garage flavour.
Forever's Original Mix effortlessly flexes piano, strings and dancing funk flutes across Mathieu's silk-like vocal arrangement, while the Francesco Tarantini Remix / Claude Monnet Reshape weighs in deep and downright dirty from the start. Unleashing spoken sample to begin with, then adding huge funky basslines, popping drum rhythms and low-down, rolling percussion elements, the pair strip it down then build it up to devastating effect.
DJ Spinna Galactic adds in beautiful muted brass sections to his re-lick, while Dagui Rodann shirks off his Blueday Stereo pose to issue an almost Moby-esque mix, bringing out the piano section, adding in dreamy snyths and strings and pushing the more dramatic elements of the Original for more of a big room feel. The Deep Hustler's Classic Remix flows back to the sounds of US Garage, gently pulsating, warm, driving rhythms building through to a stunning organ breakdown; they return with DJ Mute on official Dub duty, losing the vocals slightly, indulging in chunky, funky piano chords to create the rhythm and pace, unleashing anthemic synths across the top and working their way towards a truly heady drop. Rounding things off, Alex Finkin gives possibly the most energetic, uplifting cut in the package, dishing up a liquid piano house edit perfectly poised for those main room, hands in the air moments.

Composed and performed by Dagui Rodann & Thimothee Milton. Written by Jocelyn Mathieu. Produced and Mixed By Claude Monnet atTopolino Bello studio for SSOH music.

Publishing: Topolino Bello. P: 2011 - CM MUSIC / SSOH
*Remixed by Dj Spinna For Beyond Real Productions Inc/ Drum programming - Dj Spinna /Keyboards - Selan Lerner / Mixed by Dj Spinna at the crib
** Deep Hustlers Classic Remix / remix & additional production by Deep Hustlers (Flavor & Rico V), additional Rhodes by Jeremy Rassat. Mixed by DJ Mute @ Big Kiff Studio. Mastering by Massimo Conte / MC Productions.
*** Deep Hustlers & DJ Mute Dub. Remix & additional production by Deep Hustlers (Flavor & Rico V) & DJ Mute.
Mixed by DJ Mute @ Big Kiff Studio. Mastering by Massimo Conte / MC Productions. "
**** remix & additional production by Francesco Tarantini and claude Monnet . Mixed and Edited by Claude Monnet
***** Remix & additional production by Alex finkin

Early support by:

- Jellybean Benitez: feelin this ... looking to playing it

- Ralph Gum: Another great vocal by Jocelyn here. Spinna did the mix I prefer.

- Marlon D: real nice release, my favorite is the original mix

- Hector Romero : Lovely vocals delivered by Jocelyn and complimented beautifully with perfect remixes for different parts of the night. I'm feeling it!

- Grant Nelson : Shit guys, way too many hot mixes here, at least 3 of these are gonna get hit!

- Ian Friday : Solid package that I will support. Feeling Spinna'a and Alex's mix especially

- Freddy Turner:Cute and will work in different rooms

- Carlos Mena : Nice package. Great variety of mixes, will definitely play a few of them.

- Soul Minority : Another awesome release from SSOH, really good remixes !!!

- Jose Carretas: Spinna mix is awesome, thank you!

- Parrish Wintersmith:('Music & Maneuvers' in : tillate, US & eletronicamagazine.com, UK) - SSOH never disappoints!

- Stereo Mutant : Too many great mixes here, loving alot of them and they'll get great rotational plays.. thanks

- Groove assassins: Massive track for the summer ..one of the best things ive heard in ages ...loads of dope mixes .... HOTTNESS !!!

- Nicc Johnson (Pacha Ibiza):Nice vocal package..the monnet reshape will work the best for my floors! thanks

- Ezel: Loving the package! specially the Dj Spinna mix, thank you

- Dj Meme : Excellent song and solid arrangement !

- Felix Feygin : Another stunning release from SSOH.. great vocals.. super remixes.. 10/10 package.

- Nick Power (Hed Kandi) - Excellent Package of mixes. Nice soulful groover. 5/5

- Pierre Ravan : LOVELY Quality prodcution...the full vocal not for me but the Dub awesome

- Warren Clarke : Great package. Will be supporting.

- Chris Samba : Great Mixes all round Spinna is dope and Original groove bumpsA N, Loving this.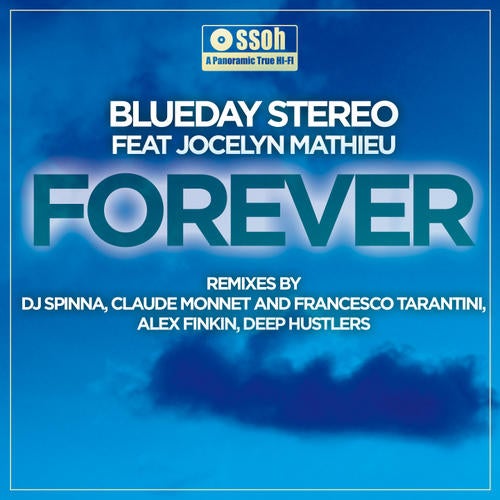 Release
Forever